Anyone who thinks there is any point in passing what is left of the "Health Care Reform Bill" in the Senate, either hasn't really looked at the bill, or isn't connected to the problem because they have good health insurance through their job, and don't give a damn about the people the bill is supposedly helping.
First off, this bill does next to nothing until 2014. People are dying every day, but the bill writes off the 200k who will die from a lack of health care access between now and then.
All health insurance is funneled through the current insurance companies, and people will be mandated to buy it, or the IRS will levy fines on them.
The rules on rescission, stopping insurance companies from dropping coverage if you get sick, are exactly the same as the current rules that the companies use to cancel policies. The "fraud" loophole is the excuse that insurance companies now use, and it is in the Senate bill.
Insurance companies are still free to put a cap on coverage.
And the list goes on and on.
December 17, 2009 2 Comments

Unlike the US media, the ABC seems to have actual news stories to report: Homes in flames as bushfires rage
Properties, homes and cars have been burnt in a large fire at Gerogery, north of Albury, in southern New South Wales.

The blaze began at a tip in the nearby village of Walla about 1:00pm (AEDT) and has burnt through grazing land between Glenellen and Gerogery.

Marg Wehner from the Rural Fire Service (RFS) says residents in the area should seek safety.

"If they do not wish to be in the area, it's probably too late to be leaving now," she said.

"The fire is within the vicinity and the smoke is very high. They need to just batten down the hatches and hang in there."

RFS commissioner Shane Fitzsimmons has told ABC local radio that an emergency alert has been issued for Gerogery, West Gerogery and surrounding areas.
…
December 17, 2009 2 Comments
"Boldly going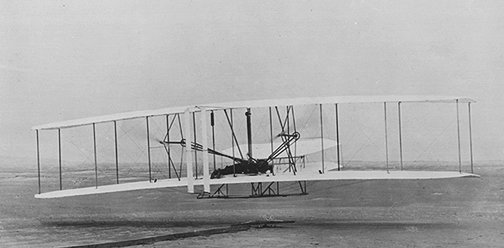 where no man has gone before."
The Wright Brothers make the first powered flight at Kitty Hawk, North Carolina
December 17, 2009 Comments Off on December 17, 1903