Semi-Final Germany v. Spain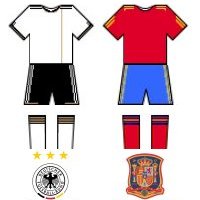 Germany [Die Mannschaft] 0-0 Spain [La Furia Roja] at the end of the first half.
Not exactly the sort of high scoring game that has characterized Die Mannschaft, but they tend to wake up for the second half. La Roja definitely has more elegant ball handling, but that isn't getting anything netted.
More later.
Final: Germany 0-1 Spain
Puyol of Spain headed one past Germany's goalie, Neuer, off a corner kick and La Roja face the Oranje in the Final.