The BBC reports on another solar aircraft: Zephyr solar plane flies 7 days non-stop
The UK-built Zephyr solar-powered plane has smashed the endurance record for an unmanned aerial vehicle (UAV).

The craft took off from the US Army's Yuma Proving Ground in Arizona at 1440 BST (0640 local time) last Friday and is still in the air.

Its non-stop operation, day and night, means it has now gone five times longer than the official mark recognised by the world air sports federation.

The plane has been developed by the defence and research company Qinetiq.

Its project manager, Jon Saltmarsh, said Zephyr would be brought down once it had flown non-stop for a fortnight.

"Zephyr is basically the first 'eternal aircraft'," he told BBC News.
The purpose of the aircraft is to provide a long-term platform for surveillance and communications relay, rather than depending on low-earth satellites.
It is launched by five people picking it up and running into the wind, and, no, I'm not kidding.
July 16, 2010 8 Comments
The Miami Herald reports that the Florida Legislature session on oil-drilling ban in jeopardy.
The Republican leadership will tell you it is so they don't give Charlie Crist a victory because he left the party. Garbage. The initial reports of the session being in trouble came from oil lobbyists, not politicians. The Republicans want to drill, and don't want to admit it until after the election. They know that if they oppose a drilling ban amendment they will be killed at the ballot box, so they are going to fight it all the way. The leadership will probably block any attempt to bring it to a vote.
If they block it, anyone voting for a Republican is voting for drilling off Florida's coast. It really is that simple.
The Pensacola News Journal has the unemployment figures for Florida and Escambia county, while the Local Puppy Trainer has them for Okaloosa and Santa Rosa counties.
While Florida dropped to 11.4%, Escambia rose to 10.9%, Santa Rosa rose to 9.8%, and Okaloosa rose to 7.6%.
"This is the time when we would have hit our peak employment right now. We should be way up," said David Goetsch, vice president for community relations and workforce development at Northwest Florida State College. "It's an indication of what the oil spill is doing, unfortunately. In fact, that might be the best indicator we've got for the financial impact of that oil spill.
These are figures for the "non-farm workforce" and don't count the fishing industry, which was heavily impacted, at all. Because of Eglin AFB, and farming in the North County, the Okaloosa County unemployment rate is normally in the 2 to 3% range. That number is further distorted by the construction industry, which normally comes in from out-of-state and isn't counted in Florida statistics as all. The same thing is happening with the contractors working for BP.
July 16, 2010 Comments Off on Florida Politics

Bourg-de-Péage – Mende
Distance: 210.5 kilometers.
Update: This was the leaders going to work for a change and challenging rather than just clumping. Alexandre Vinokourov led the break-away that enabled Alberto Contador to attempt to take the Mende stage, something he has been successful at in the past. While picking up 10 seconds on Andy Schleck, Alberto's goal was foiled by Joaquin Rodriguez Oliver, who won by inches with a better sprint.
That short, steep climb is well suited to Alberto, and Alexandre was in position to help him make the attempt when Andy chose not to pursue the break-away.
It's the finish that wipes them out. This stage starts with a couple of category 3 climbs followed by a sprint. Then there is a category 2 climb, a category 3 climb, and another sprint. Since that isn't enough, you end with a 3 kilometer category 3 that rises at 10% or better to face a 2 kilometer sprint to the finish.

Andy Schleck ( Lux – SAX – 011 ) [Yellow] 53h 43m 46s


Thor Hushovd ( Nor – CTT – 095 ) [Green] 167 points


Anthony Charteau ( Fra – BBO – 153 ) [Polka Dot] 107 points


Robert Gesink ( Ned – RAB – 195 ) 7 [White]
Team: Radio Shack RSH ( 021-029 ) [Yellow numbers]
Stage winner: Joaquin Rodriguez Oliver ( Esp – KAT – 077 )
Combative: Alexandre Vinokourov ( Kaz – AST – 009 ) [Red numbers]
They've gone 2,347.9 kilometers [1,458.9 miles] at an average speed of 40.0 kph [24.9 mph].
OVERALL STANDINGS:

Andy Schleck ( Lux – SAX – 011 ) [Yellow]
2 Alberto Contador ( Esp – AST – 001 )
3 Samuel Sanchez ( Esp – EUS – 181 )
4 Denis Menchov ( Rus – RAB – 191 )
5 Jurgen Van Den Broeck ( Bel – OLO – 101 )
6 Levi Leipheimer ( USA – RSH – 025 )


7 Robert Gesink ( Ned – RAB – 195 ) [White]
8 Joaquin Rodriguez Oliver ( Esp – KAT – 077 ) [Stage winner]
9 Luis-Leon Sanchez ( Esp – GCE – 161 )
10 Roman Kreuziger ( Cze – LIQ – 044 )
11 Ivan Basso ( Ita – LIQ – 041 )
12 Alexandre Vinokourov ( Kaz – AST – 009 ) [Red numbers]
13 Ryder Hesjedal ( Can – GRM – 054 )
14 Nicolas Roche ( Irl – ALM – 081 )
15 Carlos Sastre ( Esp – CTT – 091 )
16 Bradley Wiggins ( GBr – SKY – 031 )
17 Michael Rogers ( Aus – THR – 118 )
18 Cadel Evans ( Aus – BMC – 121 )
19 Thomas Lövkvist ( Swe – SKY – 037 )
20 Andréas Klöden ( Ger – RSH – 024 )
32 Lance Armstrong ( USA – RSH – 021 )


48 Anthony Charteau ( Fra – BBO – 153 ) [Polka Dot]
61 Jérôme Pineau ( Fra – QST – 135 )
63 Geraint Thomas ( GBr – SKY – 039 )


135 Thor Hushovd ( Nor – CTT – 095 ) [Green]
148 David Millar ( GBr – GRM – 057 )
150 Mark Cavendish ( GBr – THR – 111 )
159 Julian Dean ( NZl – GRM – 052 )
163 Robbie McEwen ( Aus – KAT – 075 )
July 16, 2010 Comments Off on Stage 12
Morning Routine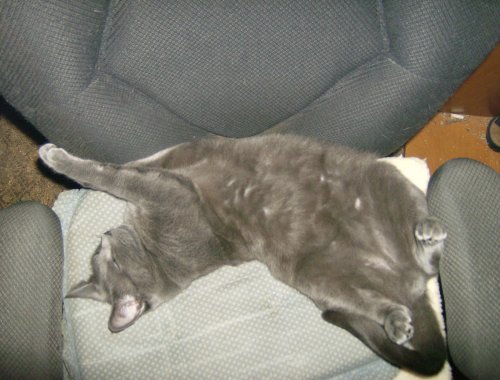 Zzzz, zzzz, zzzz…
[Editor: Every morning I have to evict this pile of gray fuzz, Income, from my office chair. The sleeping position may look like an invitation to a tummy rub, but that is contra-indicated unless you subscribe to the old medical practice of bleeding, i.e. IT"S A TRAP! DON"T ATTEMPT IT!.]
July 16, 2010 7 Comments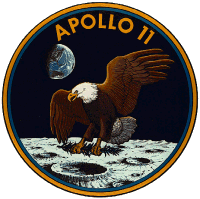 Apollo 11
Commander:
Neil A. Armstrong
Pilot: Columbia Command Module
Michael Collins, Lieutenant Colonel, USAF
Pilot: Eagle Lunar Module
Edwin E. "Buzz" Aldrin, Jr., Colonel, USAF
Launched: 16 July 1969 UT 13:32:00 (08:32:00 CDT)
Landed on Moon: 20 July 1969 UT 20:17:40 (15:17:40 CDT)
Landing Site: Mare Tranquillitatis – Sea of Tranquility (0.67 N, 23.47 E)
Returned to Earth: 24 July 1969 UT 16:50:35 (11:50:35 CDT)
July 16, 2010 4 Comments