When I reloaded the page at 4:43PM CDT I noticed that the Leak Meter had stopped. Clicking through to PBS, they are reporting that the oil has stopped flowing into the Gulf from the Well from Hell after BP closed the valves on their cap. [Update: BP puts the stop time at 2:25PM CDT.]
This is a test, and they have to monitor the pressure to be sure that the oil doesn't have another path to the surface, and hope that the pressure doesn't blow the wellhead off the shaft. For now, I will take what is offered, while I wonder: why they didn't do this months ago?
July 15, 2010 6 Comments
A nice Lee Judge cartoon from the Kansas City Star to look at while waiting for the announcement of when there will be an announcement, possibly announcing the imminent announcement that could be about what might be a problem, or not, that might affect a product that was recently announced by Apple.
People are speculating that someone might tell them that if they actually try to hold the newest iPhone, they will ground out the antenna that was part of the elegantly designed stainless steel band that runs around the outside of the device. But maybe, not.
Oh, I had this problem with my first portable transistor radio, but a couple of layers of electrical tape fixed it… mostly. It was AM, so it was hard to tell.
July 15, 2010 13 Comments
The Washington Post tells us water is wet: Companies Piling Up Cash But Not Adding Jobs
Nonfinancial companies are sitting on $1.8 trillion in cash, roughly one-quarter more than at the beginning of the recession. And as several major firms report impressive earnings this week, the money continues to flow into firms' coffers.

Yet all the good news from big business hasn't translated into much promise for jobless Americans, leading many to wonder: If corporations are sitting on so much money, why aren't they hiring more workers?

The answer to that question has become a political flash point between the White House and big business groups such as the U.S. Chamber of Commerce, which held a jobs summit Wednesday and accused the Obama administration of dumping onerous regulations on businesses. That has created an environment of "uncertainty," which is causing firms to hold back on hiring as the unemployment rate has hovered near 10 percent, the Chamber said.

The White House countered that companies are wary of hiring not because of new regulations but because they're still waiting for consumer demand to return. The administration also claimed credit for 3.5 million jobs created by the stimulus bill from last year.
What are these "onerous demands" – Keep poison out of your products? Don't sell things that kill the buyers? Don't destroy the planet to make a profit? What are the regulations the Chamber is talking about?
If these regulations are so "onerous", how did these corporations manage to salt away $1.8 trillion in cash?
The financial industry is facing new regulation because they blew up the global economy, and the oil companies are being look at because there is crude gushing into the Gulf, but no one else is being talked about. This makes as much sense as all of the NRA claims that "Obama is going to take your guns", another creation from whole cloth. This preemptive whining isn't attractive in small children, much less CEOs.
July 15, 2010 8 Comments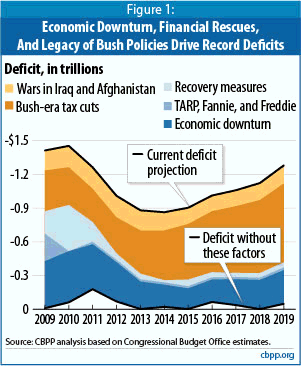 McClatchy chronicles the stupidity that is the "disloyal opposition" – GOP: No more help for jobless, but rich must keep tax cuts
WASHINGTON — Republicans almost unanimously oppose spending $33.9 billion for extended unemployment benefits for some 2.5 million people who've lost them, because they say it would increase federal budget deficits.

At the same time, they're pushing a permanent extension of Bush administration tax cuts, especially for the wealthy, which could increase federal budget deficits by trillions of dollars over the next 10 years.

How do they justify this?

"Tax policy is dynamic. If you have the right kind of tax reform, it helps generate a more dynamic economy," said Sen. Mike Crapo, R-Idaho, a member of the Senate Finance Committee, which writes tax law. While that may be true, even the Bush Treasury Department concluded that its tax cuts increase budget deficits.

Besides, wouldn't providing $33.9 billion to extend unemployment benefits to 2.5 million people help the economy?

"There's a distinction between taxes and spending," Crapo said. "We have a huge problem with a lack of spending restraint."

In addition, noted Iowa Sen. Charles Grassley, the committee's top Republican, "This is a tax increase if you don't extend, and it's not a tax cut if you do."
Look at the chart – the Bush II tax cuts are the number one factor in the current deficit, just like they were the number one factor in the Reagan deficit. Things were so bad that Bush I reneged on his "no new taxes" pledge to start dealing with the Reagan deficit. Bush I and Cheney, then Secretary of Defense, reduced military spending to start to rein in costs.
July 15, 2010 Comments Off on Tax Cuts Are Free, Right?

The ABC is carrying an AFP report that covers what has become "standard operating procedure" for BP, incompetence: Leak forces BP to delay cap test
After finally getting the green light to begin pressure tests, BP said it would have to postpone the procedure for a second time to repair a leak in a system of triple blowout preventers being used in the operation, known as rams.

"In preparation for commencement of the well integrity test, the middle ram has been closed and a leak has been detected in the choke line of the three-ram stack," BP said in a statement on its website.

"It has been isolated and will be repaired prior to starting the test."
BP has since discovered that miracle cure, a wrench, and tightened the connections, something that would have been a hell of lot easier if it had been done before they lowered the unit a mile under water. You may remember that one of the many faults with the original blowout preventer was a hydraulic line that was loose.
Mark Fiore has a new animation out that is tangentially related.
July 15, 2010 2 Comments

Sisteron – Bourg-lès-Valence
Distance: 184.5 kilometers.
Mark Cavendish won his third stage, but Alessandro Petacchi took the Green Jersey. The top twenty are biding their time as the Tour moves out of the Alps and heads for the Pyrenees.
A category 3 climb a third of the way into the stage, then it's down hill with a couple of sprints thrown in. The best sprinters are well back from the lead, so they are focusing on the Green Jersey, not the Yellow.

Andy Schleck ( Lux – SAX – 011 ) [Yellow] 53h 43m 46s


Alessandro Petacchi ( Ita – LAM – 208 ) [Green] 161 points


Jérôme Pineau ( Fra – QST – 135 ) [Polka Dot] 92 points


Robert Gesink ( Ned – RAB – 195 ) 7 [White]
Team: Caisse d'Epargne GCE ( 161-169 ) [Yellow numbers]
Stage winner: Mark Cavendish ( GBr – THR – 111 )
Combative: Stéphane Auge ( Fra – COF – 172 ) [Red numbers]
They've gone 2,137.4 kilometers [1,328.1 miles] at an average speed of 39.8 kph [24.7 mph].
OVERALL STANDINGS:

Andy Schleck ( Lux – SAX – 011 ) [Yellow]
2 Alberto Contador ( Esp – AST – 001 )
3 Samuel Sanchez ( Esp – EUS – 181 )
4 Denis Menchov ( Rus – RAB – 191 )
5 Jurgen Van Den Broeck ( Bel – OLO – 101 )
6 Levi Leipheimer ( USA – RSH – 025 )


7 Robert Gesink ( Ned – RAB – 195 ) [White]
8 Luis-Leon Sanchez ( Esp – GCE – 161 )
9 Joaquin Rodriguez Oliver ( Esp – KAT – 077 )
10 Ivan Basso ( Ita – LIQ – 041 )
11 Roman Kreuziger ( Cze – LIQ – 044 )
12 Ryder Hesjedal ( Can – GRM – 054 )
13 Nicolas Roche ( Irl – ALM – 081 )
14 Alexandre Vinokourov ( Kaz – AST – 009 )
15 Michael Rogers ( Aus – THR – 118 )
16 Carlos Sastre ( Esp – CTT – 091 )
17 Bradley Wiggins ( GBr – SKY – 031 )
18 Cadel Evans ( Aus – BMC – 121 )
19 Thomas Lövkvist ( Swe – SKY – 037 )
20 Andréas Klöden ( Ger – RSH – 024 )
32 Lance Armstrong ( USA – RSH – 021 )
38 Sylvain Chavanel ( Fra – QST – 131 )


60 Jérôme Pineau ( Fra – QST – 135 ) [Polka Dot]
129 Thor Hushovd ( Nor – CTT – 095 )
132 Robbie McEwen ( Aus – KAT – 075 )
143 David Millar ( GBr – GRM – 057 )
145 Mark Cavendish ( GBr – THR – 111 ) [Stage winner]


146 Alessandro Petacchi ( Ita – LAM – 208 ) [Green]
163 Stéphane Auge ( Fra – COF – 172 ) [Red numbers]
July 15, 2010 Comments Off on Stage 11