Posts from —
May 2011
A Better Outlook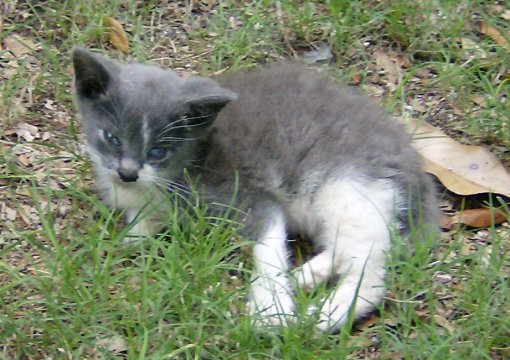 Arrrggg?
[Editor: Cap'n Kitt's eye is much improved, but he's a bit 'groggy' because I woke him for the picture.]
Friday Ark on vacation this week
May 27, 2011 8 Comments
Atrios noted that The Dead Already Pay For Medicaid, which is not precisely true, as in most states they require you to use up all of your assets before you can get on Medicaid for nursing home care, and will do their best to recover their outlays if any assets suddenly appear, like winning the lottery or inheriting money. They will also take proceeds from any insurance you have.
But that's Medicaid, a Federal/state means-tested program for the poor.
He noted that the "founder" of Friday Cat Blogging has a truly stupid idea that displays an amazing level of ignorance about Medicare in a post titled: Why Not Let the Dead Pay for Medicare?
Medicare is a health insurance program. People have to pay the "premiums" for a minimum of 10 years to be eligible. If Medicare needs more money, the solution is the same as for any insurance program – raise the premium.
Medicaid comes out of the general fund and affects the national deficit. Medicare is paid for by "premiums" in the form of the FICA [note that the "I" stands for "insurance"] withholding taxes, and has nothing to do with the deficit.
Kevin Drum is no longer on my blogroll because he has gone off on these tangents of ignorance all too often.
May 26, 2011 2 Comments
After only 8 years the current computer that I use on the 'Net is starting to lose bits and pieces, and act weird, so I'm going to have to put another one together.
At the moment I'm planning on an AMD Phenom II X4 in an ASUS motherboard that supports SATA 6GB, USB 3.0, and DDR3 memory with a couple of 1 terabyte hard drives [one for Win and one for Linux].
The annoying part of this was discovering that the only people who build their own machines anymore are apparently gamers, because everything is directed towards them and over-clocking.
The hardest part was locating a legal XP boot CD for the Windows drive, because my current system had Windows pre-installed and they didn't include a boot CD. One of the people I do some work for is still using XP, and I can't be sure that the software they are using will still function on Win 7.
Obviously the Win system won't be able to use all of the newest stuff, nor will it recognize all of the RAM that will be on the system, but that stuff is for the Linux system.
The really annoying part is that all of the spares I have laying around are worthless with the new connectors,
May 26, 2011 15 Comments

Position: 18.7N 123.9E [ 9PM CST 0300 UTC 1200 JST].
Movement: North-Northwest [330°] near 12 mph [19 kph].
Maximum sustained winds: 150 mph [240 kph].
Wind Gusts: 185 mph [295 kph].
Tropical Storm Wind Radius: 190 miles [305 km].
Hurricane Wind Radius: 50 miles [ 80 km].
Currently about 310 miles [ 500 km] Northeast of Manila, Philippines.
Songda is still on track for Okinawa on Saturday. It should lose some strength before then as the sea surface temperatures are cooler further North and there is some shear in that area.
Weakened a bit overnight [local time], but still a nasty piece of work.
[For the latest information click on the storm symbol, or go to the CATEGORIES drop-down box below the CALENDAR and select "Hurricanes" for all of the posts related to storms on this site.]
May 26, 2011 Comments Off on Super Typhoon Songda – Day 5
The Florida Republicans should just "go Galt" and leave people alone.
The Miami Herald reports that according to a recent Poll: Rick Scott among the least-liked governors in nation
"The data on the perceived fairness of the governor's budget is crucial. When voters by almost 2-1 say his approach is unfair to them, that's a giant flashing political warning sign for Scott," Peter A. Brown, assistant director of the Quinnipiac University Polling Institute, said in a written statement. "When voters don't think they are being treated fairly, they tend to react negatively."
As far as Job Approval, 57% say he sucks, and 56% say the legislature sucks.
Only 24% approve of the new budget, while 53% think it sucks. Only 29% think they were treated fairly by the budget, while 53% think they were screwed.
As to the effects of the budget cuts on the economy, 23% think they will help, 31% think the cuts are irrelevant, and 38% think the economy is screwed.
The voters got what a majority of them asked for, so I can't feel sorry for them. It was well known what Scott was, and people voted for him anyway, so they can stop complaining about the higher telephone and utility bills, the soaring cost of property insurance, and the unemployment above the national average – they voted for it.
May 25, 2011 2 Comments
The CBC reports that Strong winds push Quebec river to new record
Towns and cities along the Richelieu River are on high alert as strong winds force water from Lake Champlain to spill into the river southeast of Montreal.

Southerly winds reaching speeds of up to 80 km/h [50 mph] on Monday pushed water levels higher than the all-time record set on May 6.

Rain and wind have been causing the river to rise steadily since Sunday with some areas along the shoreline going up four centimetres [1½ inches], while others have seen the water rise as much as 10 centimetres [4 inches].
The previous record was from the mid-19th century.
Lake Champlain is on the border between New York and Vermont and extends to Canada at the North end. It is fed by the snow pack and streams in the two states and exits to the St. Lawrence River via the Richelieu, which flows to the North.
May 25, 2011 Comments Off on Quebec Flooding Continues
I have moved Dr Masters blog, the Tornado Map, and added the Severe Weather Threat Map to a new Weather section on the right sidebar, because this is looking like it is going to be a long term problem. Folks, the National Weather Service's severe weather people had to evacuate their building in Oklahoma because of tornadoes yesterday. Today it looks like the mid-Mississippi Valley, although the area in around Chicago is already under severe thunderstorm/tornado watches.
Dr Masters has the recap on yesterday and the caution for today:
America's deadliest tornado season since 1953 continued its relentless onslaught of violent tornadoes yesterday. Numerous destructive and deadly tornadoes raked Oklahoma, Texas, Kansas, and Arkansas, killing at least nine people. Yesterday's deadliest tornado hit El Reno and Piedmont, Oklahoma, about 30 miles to the west and northwest of Oklahoma City. Four people died, and one child is missing. Video of the damage from this tornado near the town of Piedmont shot by a news9.com helicopter shows damage characteristic of an EF-4 tornado, with many homes completely demolished and swept off their foundations. This tornado produced a wind gust of 151 mph at an Oklahoma Mesonet station in El Reno, Oklahoma.
…
[Read more →]
May 25, 2011 Comments Off on And The Tornadoes Continue …

Position: 14.2N 127.0E [ 3PM CST 2100 UTC 0600 JST].
Movement: North-Northwest [340°] near 7 mph [11 kph].
Maximum sustained winds: 130 mph [215 kph].
Wind Gusts: 160 mph [260 kph].
Tropical Storm Wind Radius: 140 miles [220 km].
Hurricane Wind Radius: 45 miles [ 75 km].
Currently about 420 miles [ 675 km] East of Manila, Philippines.
The storm has intensified to a minimal Category 4 and has begun its forecasted turn to the North. It is too soon to be certain, but it would appear that the Philippines and Taiwan can relax a bit. Okinawa should be paying attention.
[For the latest information click on the storm symbol, or go to the CATEGORIES drop-down box below the CALENDAR and select "Hurricanes" for all of the posts related to storms on this site.]
May 25, 2011 Comments Off on Typhoon Songda – Day 4

Oh, the Vogon constructor ship misfiled the work order from Harold Camping, so we're still here. Rumor has it that the job has been rescheduled for October.
May 25, 2011 Comments Off on DON'T PANIC!
Democratic millionaire Kathy Hochul has defeated Republican millionaire Jane Corwin. The Republicans will claim it was the presence of Tea Party millionaire Jack Davis, but that just shows that they know no more about the 26th Congressional district of New York than their candidate.
The race was decided by who didn't vote, not who voted for Jack Davis.
Corwin spent all of her time running against Davis, while Hochul stayed on message. Hochul got Democrats to go to the polls, but Corwin couldn't turn out the troops. The district is overwhelmingly Republican, but they didn't go to the polls.
May 25, 2011 Comments Off on New York 26 Goes Democratic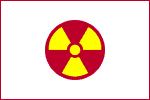 TEPCO is forced to admit what many experts have been saying for weeks – there were meltdowns at all three reactors.
The BBC reports that Tepco confirms extra partial fuel rod meltdown at plant
Tokyo Electric Power (Tepco) has confirmed the meltdown of extra fuel rods in reactors at its damaged Fukushima nuclear power plant.

The company said that the rods were in its Number 2 and Number 3 reactors.
…

Earlier this month, Tepco had revealed that rods at its Number 1 reactor melted down. It was thought that a similar problem had occurred in the other reactors but it was difficult to confirm.

"Based on our analysis, we have reached the conclusion that a certain amount of nuclear fuel has melted down," Ken Matsuda, a Tepco spokesman told the BBC.

He said the analysis came from a report that Tepco was required to submit to Japan's Nuclear and Industrial Safety Agency (Nisa).

The spokesman added that most of the fuel from the Number 2 reactor had melted approximately 100 hours after the earthquake, which measured 9 on the Richter scale, struck Japan.

The meltdown in the Number 3 reactor took place about 60 hours after the quake.

Mr Matsuda said the new discovery would not alter Tepco's plans.
What is this "partial" crap? All three reactors have been slagged, and it occurred in the first 100 hours. If there hadn't been a mandatory reporting requirement TEPCO would still be hiding that fact.
The really maddening part is that if they had admitted how bad things were and asked for help, as a matter of self-preservation, there would have been a lot of assistance offered from around the world. With good and factual information people can model the problem and design solutions. The way this has been handled prevented the rest of the world from offering assistance that was available.
May 24, 2011 2 Comments
While at my Mother's today she had a news program on television and a man who was identified as a "political analyst" reported that is is confirmed that Rick "Man on Dog" Santorum [OK, so he didn't mention the "Man on Dog" part, and referred to him as a former Senator] will be announcing that he will run for President in June.
The woman at the desk remarked "We are now covering announcements of announcements?" The analyst gave a nervous laugh.
Obviously she will have to be replaced for noticing reality.
May 24, 2011 Comments Off on Job Opening Soon
Update: There are have been dozens of tornadoes or vortex signatures showing on the map tonight in Texas, Oklahoma, Kansas, and Missouri. Another terrible day in the middle of the country.
They weren't as bad as Sunday, but there were tornadoes that touched down in Ohio and Indiana yesterday. I track them using the Weather Underground's Tornado Map on my right sidebar.
Dr Masters provides a wrap up on the Joplin tornado:
Severe weather is expected again today in storm-torn Joplin, Missouri, as rescuers sift through the rubble of their town that was devastated by the deadliest U.S. tornado since at least 1947. A violent high-end EF-4 tornado with winds of 190 – 198 mph carved a 7-mile long, ¾ to one mile-wide path of near-total destruction through Joplin beginning at 5:41pm CDT Sunday evening. In nine terrifying minutes, the tornado killed at least 116 people, injured 500 more, and obliterated huge sections of the town. Damage from the tornado is so severe that pavement was ripped from the ground, and the level of damage is so extreme that this is likely to surpass last month's Tuscaloosa-Birmingham tornado as the costliest tornado of all-time.
There are two major reasons for these outbreaks this year: the water in the Gulf of Mexico is warmer than normal, and the La Niña has played hell with the jet stream.
When a low pressure system forms in the center of the country, the warm, moist air from the Gulf and the cool, dry Canadian air are pulled towards it. The jet stream provides the "spin" that turns a thunderstorm into a tornado. The greater the temperature differential between the cold and warm air masses, the more powerful the thunderstorm and the more likely it is to rise to the altitude of the jet stream and pick up spin.
May 24, 2011 2 Comments

Position: 12.7N 127.8E [ 9PM CST 0300 UTC Noon JST].
Movement: West-Northwest [290°] near 6 mph [ 9 kph].
Maximum sustained winds: 105 mph [165 kph].
Wind Gusts: 125 mph [205 kph].
Tropical Storm Wind Radius: 130 miles [215 km].
Hurricane Wind Radius: 40 miles [ 65 km].
Currently about 530 miles [ 850 km] East-Southeast of Manila, Philippines.
The track forecast remains consistent – it will parallel the Philippines and then turn to the North before it gets to Taiwan. If nothing changes the track takes the storm over Okinawa on Saturday morning [JST].
The storm has strengthened to Category 2 and it is slowing, probably beginning its turn to a more northerly track as forecast.
[For the latest information click on the storm symbol, or go to the CATEGORIES drop-down box below the CALENDAR and select "Hurricanes" for all of the posts related to storms on this site.]
May 24, 2011 Comments Off on Typhoon Songda – Day 3