People have started referring to the result of Hurricane Sandy joining with the Nor'easter currently moving towards the coast as Frankenstorm – alluding to the fact that it will be made up of parts of multiple storms and is likely to be a 'monster'.
The CBC has a nice introduction to what is going on: 'Frankenstorm' may be headed for Eastern Canada, U.S., and Wikipedia covers the Halloween Nor'easter of 1991, the last time this happened.
This will be different than the 1991 event because that storm stayed in the Atlantic, while this one is coming ashore.
In a bit of serendipity, xkcd has a comic strip today that covers the end of the 2005 hurricane season when they ran out of names and had to use the Greek alphabet. The captions are actual statements by forecasters in their public advisories. It gives you a sense of how abnormal/different things have become in recent years.
Some people think the weather forecasters are overestimating the impact of this storm. I would point out that the last time I have read warnings like this from the National Weather Service was for Hurricane Katrina in 2005. Hope for the best, but take this sucker seriously.
October 26, 2012 Comments Off on Frankenstorm

Position: 27.7N 77.1W [10PM CDT 0300 UTC].
Movement: North [010°] near 7 mph [11 kph].
Maximum sustained winds: 75 mph [120 kph].
Wind Gusts: 90 mph [145 kph].
Tropical Storm Wind Radius: 415 miles [665 km].
Hurricane Wind Radius: 70 miles [110 km].
Minimum central pressure: 969 mb ↓.
Currently about 395 miles [ 630 km] South-Southeast of Charleston, South Carolina.
A Tropical Storm Warning is in effect for the East Coast of Florida from Jupiter Inlet to St Augustine, the South Santee to Duck including Pamlico and Albemarle Sounds, and Great Abaco and Grand Bahama Islands.
A Tropical Storm Watch is in effect for the Florida East Coast from St Augustine to Fernandina Beach, the Savannah River to the South Santee River, and Bermuda.
The storm is dealing with heavy wind shear, which is causing a weakening trend, but it is radically expanding its wind field, and is expected to regain strength when the shear abates.
Here's the link for NOAA's latest satellite images.
[For the latest information click on the storm symbol, or go to the CATEGORIES drop-down box below the CALENDAR and select "Hurricanes" for all of the posts related to storms on this site.]
October 26, 2012 Comments Off on Hurricane Sandy – Day 5
Challenge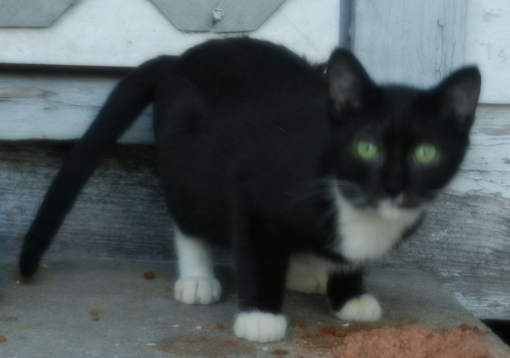 It's mine and I don't share!
[Editor: Mini-Sox is protective of his food, with good reason. He is generally the first or second cat I see when I dole out the wet stuff. The camera decided to focus on the house rather than his face, so it's slightly blurred.]
October 26, 2012 4 Comments