Froggy Weather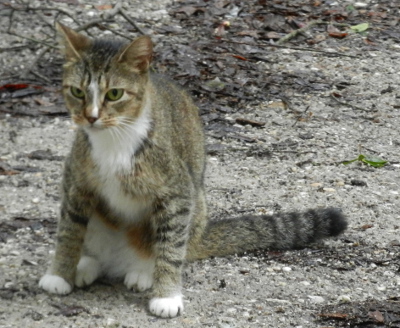 Where's the food?
[Editor: Froggy is the only cat I've seen outside in the last three days. It stopped raining long enough for me to fill the feeding stations.]
July 5, 2013 4 Comments
The National Weather Service in Mobile has issued a
* Flood Warning for Okaloosa County in northwest Florida until 1100 PM CDT Friday…
* High surf advisory now in effect until 7 PM CDT Saturday…
* High rip current risk now in effect through Saturday evening…
* Flash Flood Watch now in effect through Sunday morning…
* A strong thunderstorm will affect southern Okaloosa County in
northwest Florida through 115 PM CDT…
Update: There was a tornado East of me that came from that thunderstorm. It is still raining, but not as hard.
For those with an interest: gopherwood was probably cedar and a cubit is about 18 inches [elbow to the tip of your middle finger (hur,hur,hur…)].
The mushrooms have gotten moldy, and the mold has mildew on it. This has been going on for a week to the 'delight' of the local tourist industry.
It stopped raining long enough for the local fireworks display which took place inside the low lying clouds. They would save a lot of money if they just used a bank of subwoofers and a few lasers and projectors.
Needless to say it has been a while since I have seen any cats, inside or out.
July 5, 2013 7 Comments

Montpellier to Albi
Distance: 205.5 kilometers.
The first quarter of the stage is rolling hills, but then you start climbing. First is the category 3 Col des 13 Vents, which is followed immediately by the toughest climb so far, the category 2 Col de la Croix de Mounis. After about 25 km up at 800 meters, you drop down for the sprint. That is followed by the category 3 climb up the Côte de la Quintaine and then 20 km to the category 4 Côte de Teillet. After that climb there is a 35 km downhill race to the finish in Albi.
Peter Sagan finally won a stage after being second on several of them. His team set the pace and reduced the number of sprinters available to challenge him at the end. The climbs just took it out of many of them who lacked the support that Cannondale provided Sagan.
Blel Kadri also received help from his team to take the Polka Dot Jersey by a single point as the climb up Col de la Croix de Mounis was the real focus of the stage. That's where Kadri took the Polka Dots and where Sagan was set up for the stage win.
This stage was a prime example of how important teams are to the success of individual riders. The 'domestiques' sacrifice their strength and race positions to promote the cause of their team's principal rider.

Daryl Impey ( RSA – OGE – 185 ) [Yellow] 27h 12′ 29″


Peter Sagan ( Svk – CAN – 011 ) [Green] 224 points


Blel Kadri ( Fra – ALM – 087 ) [Polka Dot] 12 points


Michal Kwiatkowski ( Pol – OPQ – 153 ) 5 [White]
Team: Orica-GreenEdge ( OGE – 181-189 ) [Yellow numbers]
Stage winner: Peter Sagan ( Svk – CAN – 011 )
Combative: Jan Bakelants ( Bel – RLT – 042 ) [Red numbers]
Top Ten:
1 Daryl Impey ( RSA – OGE – 185 )
2 Edvald Boasson Hagen ( Nor – SKY – 002 ) + 00′ 03″
3 Simon Gerrans ( Aus – OGE – 181 ) + 00′ 05″
4 Michael Albasini ( Sui – OGE – 182 ) + 00′ 05″
5 Michal Kwiatkowski ( Pol – OPQ – 153 ) + 00′ 06″
6 Sylvain Chavanel ( Fra – OPQ – 152 ) + 00′ 06″
7 Christopher Froome ( GB – SKY – 001 ) + 00′ 08″
8 Richie Porte ( Aus – SKY – 006 ) + 00′ 08″
9 Nicolas Roche ( Irl – TST – 097 ) + 00′ 14″
10 Roman Kreuziger ( Cze – TST – 094 ) + 00′ 14″
The Rest of the Top 30:
[Read more →]
July 5, 2013 Comments Off on Le Tour 100 – Stage 7