Update on "Zorro"
April 2, 2008:
Zorro is in Seattle with Lance and Tonya. The best news is, vets have completed an MRI and Zorro will NOT need back surgery at this time. He has a minor concussion, some bruising on the lung, 3 broken ribs, swelling, bruising & bleeding on the spine with one injured disc. Zorro is responding to things around him. They expect, with time, he will get feeling in his back legs and be able to stand and walk. Zorro will be released friday evening from the Seattle vet clinic to come home and begin his long road to recovery with veterinarians in Fairbanks. Zorro will need 6-8 months of care and therapy. Doctors are optimistic for his recovery.
Of course, this means his racing days are over, but he will still have a life in the kennel.
April 4, 2008 2 Comments
Ms Gruntled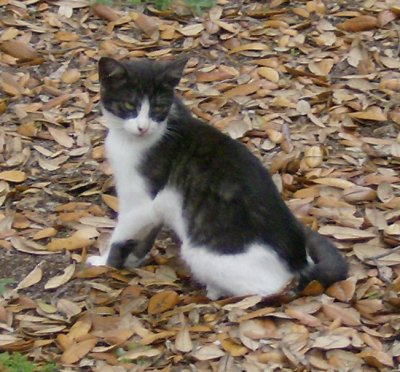 I told you leaves were no fun.
[Editor: This is the youngest feral around, and she doesn't approve of much. A litter mate was chasing everything in the yard and she just sat there. Some cats are born old.]
April 4, 2008 15 Comments