Good news from the BBC: Space station crew repair toilet
Crew members have fixed a toilet at the International Space Station with a pump delivered by the shuttle Discovery.

After three tests, the toilet appeared to be working, according to an update from US space agency Nasa.

The toilet's urine collection unit had been broken, meaning that astronauts had to operate a pump manually.

Astronauts also opened a Japanese laboratory Kibo, which will be used for the study of biomedicine and material sciences at the station.
The gazillion dollar lab module is all very well and good, but nothing gets done when the loo's busted.
June 4, 2008 11 Comments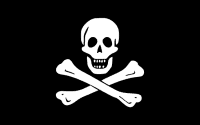 In order to generate "local excitement" [sell stuff] the chamber of commerce is once again annoying people with the Billy Bowlegs Festival. This year it runs from tomorrow and finishes up on Monday with a really annoying parade that screws up traffic and sends a lot of noisy people through my neighborhood.
Almost at bad as the Monday traffic jam are the Friday fireworks. I know a lot of people enjoy fireworks, but they probably have not seen what loud noises and flashes of light can do to people and aircraft – I am definitely not a fan.
June 4, 2008 6 Comments