From MSNBC [because CNN doesn't have any fire stories on its front page]: California wildfire takes aim at Big Sur
BIG SUR, Calif. – Firefighters bulked up their defenses Friday against a wildfire that threatened parts of this storied tourist town and prepared for more lightning strikes that could ignite new fires across Northern California.

More than 1,000 fires, mostly caused by lightning, burned across Northern California, including two gigantic blazes in the Los Padres National Forest.
There are also lightning ignited fires in the Manzano Mountains of central New Mexico, and a dozen fires in Colorado.
June 27, 2008 4 Comments
Fallenmonk and Chris at Suburban Guerrilla are having a tizzy over Tbogg's post on "Optical intercourse", one of the many reasons for students being chastised at Pensacola Christian College.
The article is part of an exposé of some of the people hired by Monica Gooding and the Hedgemony's Department of Justice.
While they shake their heads in wonder at what happens on the Florida Panhandle, they miss something – PCC's influence isn't limited to their campus and the graduates of the college. They have a very widespread network that is global.
In addition to the college, PCC owns: Pensacola Theological Seminary, Rejoice Music, Rejoice Radio, Rejoice TV, A Beka Academy, and A Beka Books. They have all evolved [they will hate that] from Pensacola Christian Academy. The Wikipedia entry notes: "The school was founded as Pensacola Christian School in 1954 by Arlin Horton (who later established Pensacola Christian College) and his wife Beka."
One of PCA's most well known alumni is Eric Hovind. Just drop by PZ Myer's place, Pharyngula,  and search on that name and watch the server slow down.
June 27, 2008 5 Comments
Oscar the Slouch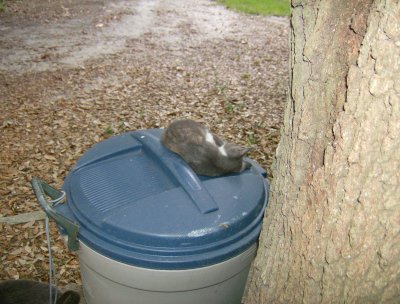 Go away, flash person!
[Editor: Almost any day you will find Oscar curled up atop this garbage can. A juvenile from the Lone Ranger's last litter, she's going to need a new "bed" after a bit.]
June 27, 2008 15 Comments