Die Mannschaft versus La Furia Roja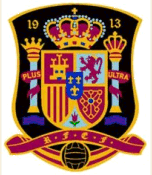 Update: Final Spain 1-0 Germany. Just past the 30-minute mark Fernando Torres took a pass from Cesc Fabregas Xavi Hernandez, out-moved a defender and chipped it in over the German goalie, Jens Lehmann.
It's time for the UEFA Cup finals of real football, the version that requires you to use your feet, so nothing else will happen in Europe during the match, and there will be either celebration or commiseration afterward, depending on how your side made out.
Pierre at Candide's Notebooks is planning to live-blog the event starting at 2:30PM EDT [he's in the other part of Florida].  It is scheduled to start at 8:45PM local in Wien/Vienna which prime-time for European audience.
The BBC will have a 'Net feed, but it will be nearly impossible to log in, even if they don't restrict it, which I suspect they will.
The German side are having some injury problems, but I will still give them the edge.
I expect they will both wear their first kit, which is white over black for the Germans and red over dark blue for Spain.