The Pensacola News Journal reported that yesterday afternoon an aircraft assigned to NAS crashed in Georgia killing 3 with one still missing. I have been waiting for identification of the crew, but with one still missing, officials will probably wait.
The aircraft was a T-39N Sabreliner assigned to Training Air Wing Six at NAS Pensacola. This was probably the standard low-level navigation training flight that is flown from Pensacola to Tennessee and back. In 2006 another T-39N flying that mission crashed in the same general area of North Georgia near the Tennessee border.
Although the aircraft belongs to a Navy unit, the unit trains personnel for the Navy, Marine Corps, Air Force and foreign countries, and has US Air Force instructors.
April 13, 2010 Comments Off on Another Crash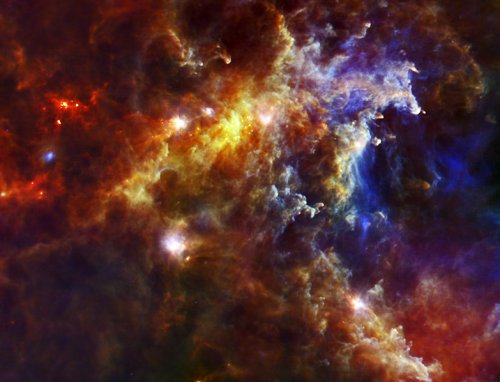 ESA's Herschel space observatory collects the infrared light given out by dust. This image is a combination of three infrared wavelengths, colour-coded blue, green and red in the image, though in reality the wavelengths are invisible to our eyes. It was created using observations from Herschel's Photoconductor Array Camera and Spectrometer (PACS) and the Spectral and Photometric Imaging Receiver (SPIRE).
I needed a break from the depressing news, including the loss of another local military aircraft.
April 13, 2010 10 Comments