Mind Like A Steel Trap…
That rusted shut long ago.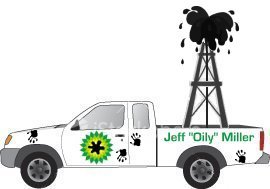 The Pensacola Beach Blog covers the reaction to the oil spill by our Congresscritter, Jefferson Miller, the Chumuckla Chucklehead.
Miller prefers:
Corporations over Cobia
Tar balls over Turtles
Petroleum over Porpoises
Natural Gas over Nature's Grace
Profits over Paradise
He voted for drilling in Florida's coastal waters before, and the huge oil spill hasn't altered his opinion in the slightest.