Posts from —
July 2010
CNN has a couple of related stories, although I doubt they saw the connection.
First, stuffed into their entertainment blog they have: Anne Rice leaves Christianity
Legendary author Anne Rice has announced that she's quitting Christianity.

The "Interview with a Vampire" author, who wrote a book about her spirituality titled "Called Out of Darkness: A Spiritual Confession" in 2008, said Wednesday that she refuses to be "anti-gay," "anti-feminist," "anti-science" and "anti-Democrat."

Rice wrote, "For those who care, and I understand if you don't: Today I quit being a Christian … It's simply impossible for me to 'belong' to this quarrelsome, hostile, disputatious, and deservedly infamous group. For ten years, I've tried. I've failed. I'm an outsider. My conscience will allow nothing else."
What they missed is that they had a good example of what Ms Rice was referring to in their own US section: Church plans Quran-burning event
(CNN) — In protest of what it calls a religion "of the devil," a nondenominational church in Gainesville, Florida, plans to host an "International Burn a Quran Day" on the ninth anniversary of the September 11, 2001, attacks.

The Dove World Outreach Center says it is hosting the event to remember 9/11 victims and take a stand against Islam. With promotions on its website and Facebook page, it invites Christians to burn the Muslim holy book at the church from 6 p.m. to 9 p.m.

"We believe that Islam is of the devil, that it's causing billions of people to go to hell, it is a deceptive religion, it is a violent religion and that is proven many, many times," Pastor Terry Jones told CNN's Rick Sanchez earlier this week.
Juan Cole found a perfect quote for this hatred:
The German poet Heinrich Heine (d. 1856), in his play lamenting the forced conversion of Spain's Muslims to Christianity, "Almansor," wrote, "Wherever they burn books, in the end they will burn human beings." (When the Nazis burned books in 1933, Heine's were among those set afire, and his prediction was borne out).
The Dove World Outreach Center also dislikes Wiccans. Not a lot of "love thy neighbor" in that church.
July 31, 2010 4 Comments

Rick Outzen is taking umbrage at the recent reports that the oil in the Gulf has disappeared and it wasn't as bad as had been assumed.
Perhaps those people who think it's over would care to explain Louisiana authorities report oil sightings from Gulf of Mexico spill for Friday July 30th. These are the reports of visible oil on the surface.
Bob Marshall, Times-Picayune, notes that the Surface of Gulf of Mexico looks better, but millions of gallons of oil remain below:
Charter captain Mike Frenette has been wondering whether the news media are living in a parallel universe. The Internet and mainstream media this week are filled with reports that the BP oil disaster is over, that the Gulf is now devoid of the slicks and sheen, and the marshes are no longer being bathed in crude.

That's not what he and his crew saw at the mouth of the Mississippi River and along the river's delta this week.

"There was more oil at South Pass Tuesday than I've seen since this whole thing started; it was really discouraging," Frenette said. "I don't know where everyone else is looking, but if they think there's no more oil out there, they should take a ride with me.

"I wish this thing was over so I could get back to fishing. But that's just not the case. We're a long way from finished with the oil."
It's a lot easier to sit in an air conditioned office somewhere and write stories to please advertisers that to go out on the Gulf during heat advisories and monitor the oil. These people could just rent a beach front condo and go down to the shore line and dig down 6 to 12 inches if they want to find the oil. BP has only been skimming the top, and the oil is soaking into the sand to discolor and poison it.
July 31, 2010 4 Comments

From the Los Angeles Times: Firefighters hope for light winds and cooler temperatures
Firefighters appeared to be gaining the upper hand Saturday in a battle against a wildfire that has burned almost 14,000 acres in northern L.A. County.

Cooler overnight temperatures and milder winds helped firefighters get 62% containment around the Crown fire in the western Palmdale and Leona Valley areas.

Some 1,320 firefighters are battling the blaze along with 10 helicopters and a DC-10 air tanker.

There have been four dwellings destroyed, along with five outbuildings. Also, there have been three minor injuries to firefighters, including a bee sting.
The fire threatens the major electrical transmission lines which provide power to a major portion of LA. The LA power system is a terrible design, with minimal redundancy and almost non-existent maintenance since the "deregulation" that helped to fuel the growth of Enron.
The winds are forecast to pick up in the afternoon, so the 62% containment is subject to change in the wrong direction.
July 31, 2010 Comments Off on LA Crown Fire Still Raging
From Weather Underground
Cinco Bayou – Pocahontas Dr., Fort Walton Beach, Florida (PWS)
Updated: 12:17 PM CDT on July 31, 2010
97.1 °F [36.2 °C]
Partly Cloudy
Humidity: 58%
Dew Point: 78 °F
Wind: 1.0 mph
Wind Gust: 7.0 mph
Pressure: 29.81 in (Falling)
Heat Index: 115 °F [46.1 °C]
Visibility: 10.0 miles
UV: 12 out of 16
Pollen: 4.00 out of 12
Clouds:
Few 4900 ft
(Above Ground Level)
Elevation: 16 ft
Heat advisory remains in effect from noon today to 7 PM CDT this evening…
July 31, 2010 Comments Off on And The Living Ain't Easy
From Weather Underground at 12:59PM Friday July, 30:
Cinco Bayou – Pocahontas Dr., Fort Walton Beach, Florida (PWS)
Updated: 1 sec ago
Partly Cloudy
94.6 °F
Partly Cloudy
Humidity: 62%
Dew Point: 80 °F
Wind: 1.0 mph
Wind Gust: 11.0 mph
Pressure: 29.90 in (Falling)
Heat Index: 114 °F
Visibility: 10.0 miles
UV: 12 out of 16
Pollen: 3.80 out of 12
Clouds:
Few 3000 ft
Few 20000 ft
(Above Ground Level)
Elevation: 16 ft
Heat advisory in effect from noon today to 7 PM CDT this evening…
July 30, 2010 Comments Off on Summertime
MSNBC has a charming piece: BP's Hayward: 'I became a villain for doing the right thing'
In his first interview since deciding to step down, Hayward told the Wall Street Journal that he did everything possible after the Deepwater Horizon exploded, by taking responsibility for the spill and spending billions on the clean-up operation and efforts to stop the leak.

The newspaper said he was unrepentant about BP's response to the spill and that he resented criticism from the Obama administration, although he also admitted that he "understood their frustration."

"I became a villain for doing the right thing," Hayward said in the interview. "But I understand that people find it easier to vilify an individual more than a company.
Tony, I remember that they have a really wonderful library in London and you might want to stop by and ask one of the extremely helpful staff to provide you with the definition of "Chief Executive Officer".
Editorial in the Mobile Press-Register: BP has broken enough promises
TAKE YOUR promises and shove 'em, BP. From what we've seen, they're not worth much anyway. You promised you would set up an escrow account for oil spill victims. Yet there's still no account — only promises by you and the White House that one will be up and running soon.

You promised you'd pay claims. But you've paid only what amounts to nickels and dimes to a lucky few.

You promised you'd keep the money flowing. But now that the cap's on the well, local businesses report that the cap's on the payments, too. All they get from you is resistance — and delay.
If you think the Gulf Coast is a harsh crowd, wait until you learn about the oligarchs of the Alfa group in Russia. With luck, they may decide to simply charge you with unspecified violations of law, as happened to your predecessor in the position, Bob Dudley. Some of their "enemies" end up dead. BP is setting you up to take the blame for both the Well from Hell and the losses in Russia.
Stop your whinging, Tony. You're making millions of dollars for being the scapegoat for the corporation's greed.
July 30, 2010 4 Comments

The major media woke up to the fire season as one popped up near them in Los Angeles County. CNN is even doing their own reporting on the Crown Fire
Los Angeles, California (CNN) — Hundreds of firefighters battled a third wildfire in the Los Angeles area early Friday as two more raged within 60 miles of one another.

The latest — known as the Crown Fire — has ignited more than 5,000 acres, fire officials said.

About 500 firefighters were at the scene, with mandatory evacuations in effect for nearly 2,000 residences.

Areas affected included some parts of Leona Valley, Ritter Ranch, Anaverde and Palmdale in northern Los Angeles County.
This morning's update by LA County Fire at 10 AM CDT reports 8,000 acres burned with 5% containment. All of the evacuations have been lifted
July 30, 2010 Comments Off on Los Angeles Area Fire
Kitten Confusion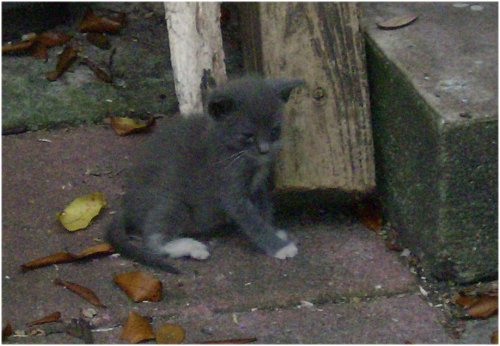 Where am I?
[Editor: I shall call this one Bonnie as I first saw it when the storm was approaching. While the leaves are in focus and the step is in focus, Bonnie is not. Of course most kittens start out like this.]
July 30, 2010 12 Comments

The West Fire is 44% contained and the Bull Run Creek Fire is 12% contained.
Pressure has been relieved on the Bull Run Creek Fire because the movement has been away from the towns.
It's not just California. Up in the Grumpy Forester's neck of the woods in Central Oregon, Buckhorn Complex was started by lightning around noon on Tuesday. It is actually two fires that are close together in the BLM Prineville District and are combined as one incident. So far 2300 acres have burned.
July 29, 2010 Comments Off on The Long Hot Summer
It's no coincidence that oil and scum float to the top. There is no lie they won't tell and no con they won't try.
Via Digby we discover America's Wetland. Now you might think this is just another environmental organization interested in protecting and rebuilding wetlands, and you might even consider supporting their efforts, except they don't need any money because their sponsors provide more than enough of that.
Their goal is to convince Congress to fund wetlands restoration instead of requiring the corporations that damaged it to pay for it.
We are spending a lot of money in Florida in efforts to restore the Everglades after a long history of screwing things up. There is some Federal money involved, but it is in the form of matching funds for certain projects, and the state has to come up with their share.
The oil companies want to get out from under the requirement that they pay for what they damage. There is no reason for Congress to go along with this, Louisiana already gets more than it pays in Federal taxes as one of the "welfare states", so if they want to help the oil companies out, let them explain it to voters.
July 29, 2010 Comments Off on What Scum
As a Canadian company is involved, at least the CBC is covering it: Enbridge steps up Michigan oil cleanup
Canadian energy distributor Enbridge was working Wednesday to contain more than three million litres [792,500 gallons or 18,870 barrels] of oil that leaked from one of its pipelines in southern Michigan, damaging water and wildlife in the Kalamazoo River.

The 41-year-old pipeline belonging to the Calgary-based company usually carries about 30 million litres of oil daily to Sarnia, Ont., from Griffith, Ind.

Enbridge said Wednesday it is doubling its work force on the containment and cleanup effort in affected areas, including the Kalamazoo, which is one of the state's major waterways and empties into Lake Michigan.

About 300 employees and contractors are trying to contain the spill, and the company is adding more barricades in nearby waterways to help contain the leaked crude, officials said.
Instead of oil-soaked pelicans, they have a picture of an oil-soaked Canada goose.
So, it is vital to drill in the Gulf of Mexico to provide "energy independence" for the US as we are shipping crude oil from Indiana to Canada and have done for decades.
The only good news it that it didn't happen in the Spring, which is prime time for nesting and spawning.
July 28, 2010 2 Comments
McClatchy features a nice anniversary article from the Miami Herald on the Well from Hell at 100 days.
My only quibble is that they are overly optimistic about the recovery. The fact that the surface oil was churned by Tropical Storm Bonnie and isn't as visible from the air, doesn't mean it is gone. What are gone are all of the creatures killed by the pollution.
After a hurricane you might believe that your trees survived, but then you notice that they don't green out the following spring and you have to take them down. Theirs wasn't a visible death, but they died just the same from the salt water carried by the wind.
Just because you don't see the all the dead creatures wash ashore, doesn't mean they didn't die. The indicator of their deaths will be absence of their offspring. When the waters are again open for fishing, there may be nothing to catch.
July 28, 2010 5 Comments

After several months of fires springing up and being contained quickly, the fire season has really taken off in the West.
British Columbia has seen larger and more frequent fires as a result of the continuing drought, and now California has gotten busy this week.
The Bull Run Creek Fire started in the Sequoia National Forest early Monday morning. and the West Fire, also in Kern County, started yesterday afternoon.
The West Fire has already destroyed 30 structures and consumed more that 1,200 acres, while the Bull Run Creek Fire is approaching residential properties around Kernville and has expanded to more than 11,000 acres.
California has declared a state of emergency, but that won't make the money needed to fight the fires magically appear.
July 28, 2010 3 Comments
As you have apparently forgotten, you are running in the Democratic Party primary in the state of Florida.
You really shouldn't be using debunked Republican talking points to attack another "Democrat", it just isn't done. I realize that the truth about the collapse of the economy makes you look bad, because you profited in the hundreds of millions of dollars range, but any number economists have shown that the Community Reinvestment Act and the actions of Fannie Mae and Freddie Mac did not cause the problems. It was bogus bond ratings, the credit default swaps, and questionable mortgage approvals of private lenders that were at the heart of the bubble.
As someone who "flipped" real estate and was involved heavily in CDSs, you were definitely more of a contributor to the financial meltdown than a Florida Congresscritter.
About being from Florida – we have a cigar industry in Florida, and it has been here a very long time. Florida Congresscritters don't vote to increase taxes on cigars, or citrus, or theme parks.
Oh, yes, during football season you don't schedule events for Friday [high school], Saturday [college], or Sunday [pros]. You really should hire some Floridians who could explain these things to you. You could start by learning the names of all of the major teams that play in Florida, and the "enemy".
You really should have run as a Republican. It is beginning to sound like you flipped a coin with Rick Scott and lost, so you had to run as a Democrat.
July 27, 2010 Comments Off on Excuse Me, Mr Greene