I have dealt with some of this before, but I have about had it with all of the distortions, ignorance, and lies about the US mission to Haiti.
The US has a long history with Haiti, and most of it has been the US and its interests screwing over the Haitian people. US pork producers and US rice producers have combined to nearly eliminate the small farms in the county, and the US has an undeniable responsibility for the Duvalier reigns of terror in the country.
This time we are actually doing things right, acting like a friend, instead of "father", and we are getting wholesale grief from everyone, except the Haitians.
Today the Secretary of State had reached her limits. In an AP article at the Washington Post [because they don't seem to have any reporters left], Clinton: Critics of US Haiti relief misguided, she confined her direct remarks to the media coverage, but it hasn't been just the media.
I ran across a good example of the sort of thing that has been going on when I did a search for article on the US attitude towards "violence" in Haiti. Lieutenant General P. K. (Ken) Keen is the Deputy Commander of Southern Command, and the head of the Haiti response by the command. He had a conference call with reporters and bloggers about the US response and conditions in Haiti.
I found the Danger Room article that I remembered reading, and also came across other reports from the same teleconference. What he said was presented in totally opposite ways by some people, including the Huffington Post.
Apple has apparently introduced a larger iPhone it calls the iPad, which has all of the features of a touchscreen kiosk from a couple of decades ago… but it has a cooler design, better graphics, and, apparently, Steve Jobs likes it so you need it to be a real neo-geek.
My older brother will probably buy one. He also has a Beta Max VCR and a laser disc player. What can I say, he lives in Southern California.
Posting has been scarce because I'm working on a major rant, and dealing with a refrigerator in its last throes.
I have been avoiding writing the rant because the whole thing just ticks me off, and while the new refrigerator is supposed to show up on Thursday, I have to transfer the contents of the dying refrigerator to mine. New refrigerators take 24 hours to reach temperature, if it is going to happen. So I'm having to clear out all of the various "lab experiments" in my refrigerator and freezer to make room for all of the actual food that needs to be kept cold or frozen. If the new one fails out of the box, the guys who installed it are going to have 24 hours to escape, which is why you should always buy local, so you have someone local to pound when there are problems.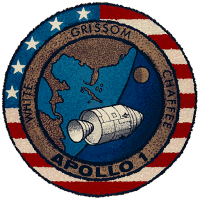 January 27, 1967
Virgil "Gus" Ivan Grissom, Lieutenant Colonel, USAF
Edward Higgins White, II, Lieutenant Colonel, USAF
Roger Bruce Chaffee, Lieutenant Commander, USN