---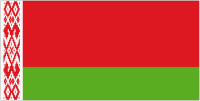 On March 19th President Alexander Lukashenko will provide voters with the opportunity to decide how wide a margin he will receive in the elections he provides to prove that he is a modern dictator.
Lukashenko believes in the freedom of the press, as well as the rack, the iron maiden, hot pokers and other things that are outlawed in the West.
When it comes to the media:
The Committee to Protect Journalists has described Belarus as one of the 10 "worst places to be a journalist". President Lukashenko appears on the Reporters Without Borders organisation's list of "predators of press freedom"; it accuses his government of carrying out a "systematic crackdown" on the private press.
To improve the experience of people voting for him, Lukashenko has rejected election monitors who intended to watch while people counted ballots and other unnecessary annoyances.
Belarus was considering using electronic voting, but that would waste all of the pre-marked ballots currently in storage.
The President is getting a little jumpy having to wait until this Sunday to learn the margin of his victory.
---
March 15, 2006 1 Comment
---
According to CBS
Harris to Stay in Race for Senate Seat
. She will be spending $10 million that she inherited from her father to lose to Senator Bill Nelson, who only needs to at least be on life support to guarantee a win, and he still has the edge if he dies.
---
March 15, 2006 Comments Off on Nelson Re-elected To Senate
March 15, 2006 Comments Off on The Ides Of March
---
DARPA
is at it again with:
Pentagon plans cyber-insect army
. They are going to "bug" bugs hoping to use them to detect explosives.
Just remember one of their wild ideas resulted in the Internet, and it keeps the people who dream this stuff up off the street.
When you check out the article, have a look at the sidebar about the attempts to use cats and bats in World War II, as well as claims about dolphins in Vietnam.
---
March 15, 2006 Comments Off on Should The Army Or Air Force Control Butterflies?
---
Jeff King
arrived at Nome after 9 days, 11 hours, 11 minutes on the trail.
The weather went from too warm at the start to bitterly cold at the end.
Update: CNN covers the Iditarod. Rachael Scdoris is currently 58, Jack. [Rachel is from Bend, Oregon and is legally blind.]
---
March 15, 2006 Comments Off on Iditarod Finishes