Just to prove they really don't understand what happened to them, House Republicans have voted to "stay the course" by re-electing their losing leadership, minus Dennis Hastert. Of course the fact that Boehner and Blunt were primarily challenged by ideologues even more right-wing, shows the Reptilicons have been listening to pundits instead of voters.
November 17, 2006 Comments Off on Stay the Course
Youthful Stupidity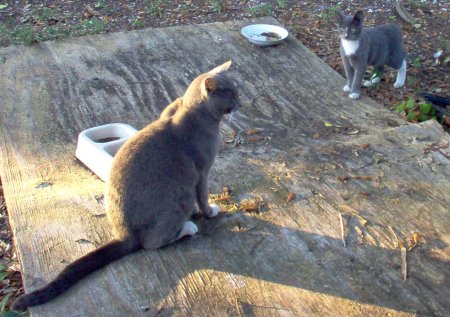 I can take him this time.
[Editor: Blaze, last seen curled up asleep on the end of a 2X6, prepares to attack TipToes, a hefty tom who is young enough to enjoy playing with kittens. Blaze has mistakenly attacked Gray Nose in this manner and got swatted across the yard for the error.]
November 17, 2006 6 Comments