Via Ellroon, the FDA had another Friday notification. The agency advises people who have been importing glycerin to check to ensure that they didn't receive diethylene glycol [DEG].
Both are sweet syrups, but glycerin is used in the manufacture of cough syrups and children's form of medications, while DEG is a toxic liquid used in automotive anti-freeze and solvents.
There are dozens of cases of dogs dying from drinking pools of anti-freeze from leaking radiators every year, like the melamine from last Friday, it causes renal failure in pets and humans.
May 6, 2007 4 Comments

They are allowed. They elected a president who promised to clean up France's illegal immigrant problem to ensure that people like his parents [a Greek immigrant mother and Hungarian immigrant father] are never allowed to settle in France again and have children who can become president. [You can probably guess that he's a "conservative".]
The BBC reports Sarkozy takes French presidency and note that "[b]oth candidates worked hard to woo the supporters of the third-placed candidate in round one, centrist Francois Bayrou." [Francois Bayrou is French for Ralph Nader.]
The BBC also provides some background on the differences between the candidates, Royal v Sarkozy: The policies.
The winner,Nicolas Sarkozy, heads the Union Pour un Mouvement Populaire (UMP) – center right coalition. [That's French for fascist-lite.]
The loser, Segolene Royal of Parti Socialiste, was hurt by intraparty controversy. [The "old boys" didn't want a "girl" to be in charge.]
The French left shares a lot of the characteristics of the Democratic Party.
May 6, 2007 6 Comments
Florida License Plates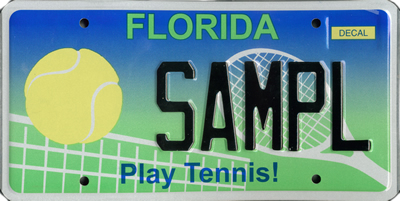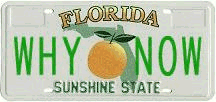 A weekend feature of Why Now.
May 6, 2007 4 Comments