I have a long rant in progress, but it has to wait until tomorrow, as Dot want to lay on the keyboard, the kittens want to chew my shoes, things needed tending to outside, there is a new vehicle decision being made, but most importantly, it is impossible to get a decent reservation for Mother's Day, so I took my Mother out to dinner tonight.
I would like to say thanks to my brother who sent the plants that I will have to dig holes for and tend. Nice, really nice. If they do well, he gets the credit, but if they wither and die, it's my fault. What, they have no flowers in California?
May 11, 2007 2 Comments
Two For Lunch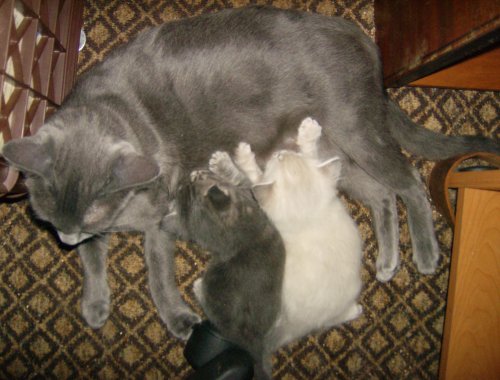 Quick before Income gets here
[Editor: Income is being a laggard at lunch time. They are spending time under the computer desk [that is a wheel from my office chair at the bottom].]
Tomorrow, Saturday, May 12th is the Stamp Out Hunger Food Drive of the letter carriers.
And a reminder that Baton Rouge's Cat Haven could use some help [as could every other TNR program in the country].
May 11, 2007 5 Comments