My Mother bought a new car. She does this about every ten years, and she was looking at the Honda Fit, figuring it would be more fuel efficient than her gas-guzzling 1996 Saturn that only gets 35mpg on the highway.
Well, the Fit is smaller, but it doesn't get the mileage that the Civic gets, 38 vs. 40mpg, so she bought a Civic coupe.
Now she has to sell the Saturn, but it needs the headliner recovered, so I have been fighting with the headliner. After you've done it once, it's a snap, but this sucker has been kicking my butt for four days trying to locate the clips for the trim and figuring out how to take things off without breaking them.
It also meant finding someone with a T-55 Torx bit so I didn't have to spend $25 for a set. Someone decided that SAE and Metric sockets weren't generating enough revenue so the seat belts are installed with Torx bolts.
I should be back to normal after tomorrow.
May 28, 2007 15 Comments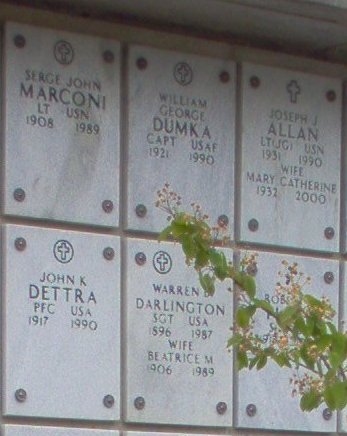 This is a picture from one of the columbariums at the Arlington National Cemetery, the final resting place of many of those who served the United States since the middle of the 19th century.
That is my Father's marker. He didn't know those located around his marker, but they all shared service to their country as part of their life.
Jams O'Donnell's recent post on his grandfather, reminded me of an obligation I have as soon as things calm down – to check on my great grandfather's grave.
Alfred Mullen went a long way from driving teams pulling barges on the Erie Canal to being a soldier in the Philippines and China. He is buried in the Chalmette National Cemetery on the site of the Battle of New Orleans. The cemetery was damaged by Katrina, and I should go over and make sure his grave is put right.
May 28, 2007 7 Comments