The article on the Pope's visit to Brazil is headlined: Pope blames Marxism, capitalism for problems. In the article he also blast autocrats and liberals.
So, if all of those things are the problem, what the solution? You sort of need a government and an economy, so give us a hint.
May 13, 2007 4 Comments
This time to my west in Escambia county on the Perdido River [the border between Florida and Alabama] near the town of Beulah, south of I-10. Smoke advisories are in effect around Pensacola.
They expect to have the fire contained tomorrow, but aren't sure why it started.
Pensacola had a record high of 93° today, so it looks like a it's going to be a long summer. We may get to the point that we would welcome a tropical storm to cool things off and wet things down.
UPDATE: National Weather Service Statement as of 10:36 AM CDT on May 14, 2007
… Smoke from the south Georgia… North Florida wildfires is spreading gradually to the west across the Florida Panhandle… South Alabama and into southeast Mississippi…
May 13, 2007 2 Comments
What in earth are we doing bogged down in another land war in Asia? Didn't we learn anything from Vietnam?
After Vietnam everyone said that the United States would never be stupid enough to get involved in another mess like that ever again. So all of the carefully compiled reports and information, all of the scholarly research on what went wrong, all of the reasoned tactics for avoiding the mistakes that were made, all of the intelligence gathered from a decade long disaster was bound and filed in the belief that this kind of conflict would never happen again so let's look at other scenarios.
All of the talk about having an exit strategy before you commit the military, is a reaction to Vietnam. Among the many things that changed after 09/11/2001 was the memory of how we got into that mess that was Vietnam.
Setting aside all of that, let's look at the "Army we had."
May 13, 2007 2 Comments
Anyone who fills the position should take the day off and spread a little guilt to keep children of all ages neurotic.
Enjoy yourselves.
May 13, 2007 2 Comments
Florida License Plates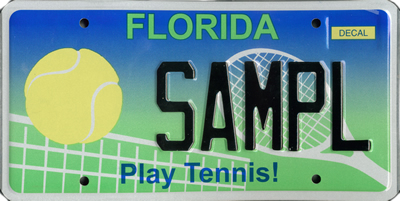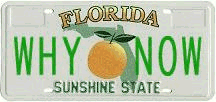 A weekend feature of Why Now.
May 13, 2007 Comments Off on Passing the Plate