Memorial Day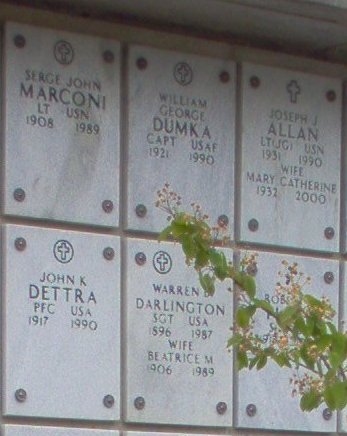 This is a picture from one of the columbariums at the Arlington National Cemetery, the final resting place of many of those who served the United States since the middle of the 19th century.
That is my Father's marker. He didn't know those located around his marker, but they all shared service to their country as part of their life.
Jams O'Donnell's recent post on his grandfather, reminded me of an obligation I have as soon as things calm down – to check on my great grandfather's grave.
Alfred Mullen went a long way from driving teams pulling barges on the Erie Canal to being a soldier in the Philippines and China. He is buried in the Chalmette National Cemetery on the site of the Battle of New Orleans. The cemetery was damaged by Katrina, and I should go over and make sure his grave is put right.