Michael at Musing's musings is growing exasperated with all of those who are yelling for impeachment and lays out his reasons for not doing it in his post, Basta! . I don't disagree with the reasoning, but it really wouldn't take as long as he fears. The House will be acting like a grand jury, and there is more than enough evidence already extant to provide for a bill of indictment. The problem is that there are at least 34 Repub Senators who value Partei over the good of the country, and until that number can be altered there isn't much point.
The situation cannot continue, with the government being ruled by a series of lettres de cachet, and the rule of law ground into the dust.
The Constitution provides a method of controlling some of the worst abuses and Congress needs to start preparing to use its power of inherent contempt.
July 22, 2007 12 Comments
CNN is carrying this Associated Press report: U.S.: Smugglers nabbed in Iraq may have links to Iran
BAGHDAD, Iraq (AP) — U.S. troops on Sunday detained two suspected weapons smugglers who may be linked to Iran's elite Quds force, the military said, as Washington presses allegations that Tehran is supporting violence in Iraq despite plans for new bilateral talks on the issue.

The suspects and a number of weapons were seized during a raid on a rural farm compound in eastern Iraq, near the Iranian border, according to a military statement.

"The suspects may be associated with a network of terrorists that have been smuggling explosively formed projectiles (EFPs), other weapons, personnel and money from Iran into Iraq," the military said. EFPs are powerful, armor-piercing roadside bombs that have killed hundreds of U.S. soldiers in recent months.
July 22, 2007 2 Comments
Florida License Plates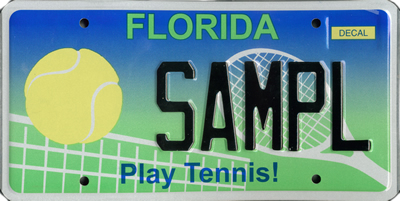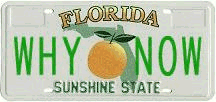 A weekend feature of Why Now.
July 22, 2007 7 Comments