CBS News shows its bias with the headline of the story: Dems Lose Fight To Aid Abortion Groups
(AP) Unable to override a promised veto, Democrats have backed down on their insistence that the 2008 foreign aid budget reverse President Bush's ban on providing aid to family planning groups abroad that offer abortions.
…

"This dogmatic adherence to an illogical position diminishes our influence around the world and prevents us from working effectively to stop the spread of HIV/AIDS and unintended pregnancies and reduce abortions," said Rep. Nita Lowey, D-N.Y., chairwoman of the House State and Foreign Operations Appropriations subcommittee.
The Hedgemony refuses to fund anything except "abstinence only" programs, and disease and death follow.
As the Washington Post reported US states are rejecting grants from the Federal government for "abstinence only" programs. These programs don't work, and the states don't want to fund them.
December 17, 2007 8 Comments
December 17, 2007 4 Comments
Unless you expect to live forever do not take the poll on MSNBC – it is 20 minutes you will not get back.  It isn't the number of questions, it's the wait when you hit the submit button.
December 17, 2007 Comments Off on Warning
December 17, 2007 Comments Off on w00t
I wrote about the case of the Templars which resulted in the burning of de Molay in 1314, despite the fact that his confession was the result of torture. The King of France owed the Templars a lot of money and had no intention of paying it, so a few confessions and he seized all of their assets.
Digby's post, Torture Works, highlights a witchcraft trial in Germany in 1628, where the principle defendant confesses under torture and implicates other innocent people.
Proving that facts have no influence on fear, Kevin Drum posts a justification for torture from a correspondent who says it saves innocent lives, and cites the claims of John Kiriakou regarding the torture of Abu Zubaydah.
December 17, 2007 6 Comments
"Boldly going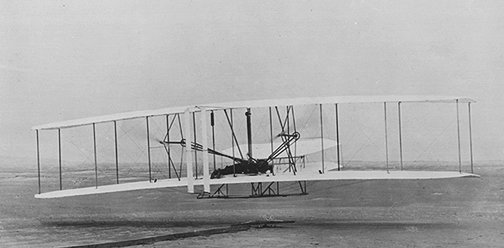 where no man has gone before."
The Wright Brothers make the first powered flight at Kitty Hawk, North Carolina
December 17, 2007 5 Comments