Posts from —
January 2008
Mardi Gras Weekend
The Pensacola News Journal has a schedule of local events.
There's something political going on next Tuesday, apparently, which is par for the course in this screwed up year – having the most primaries scheduled on Shrove Tuesday.
I'm beginning to suspect that the telcos are engaged in a bit of filtering of DSL. Beginning two days ago I've had a miserable time getting to this site, with a lot of time outs and not founds along the way. When I go to the hosting service and run the diagnostics everything is wonderful, and I have no problem at all reaching the hosting service, which indicates it is not a routing problem in general, but specific to my site.
Then I noticed the same types of problems with Bark Bark Woof Woof, the Yellow Doggerel Democrat, Sideshow, and a few others. I already know that this site is blocked by a lot of filters because there is an avid gamer who uses the nom de jeu of "Whynow" and is on gaming sites all over. The other sites get blocked for various SBC sphincter-control problems that result in astroturffing. I'm trying to get some information on what's going on, but there is a major problem reaching "customer service": Internet failure hits two continents
John Edwards and Rudy Giuliani have dropped out of the race and I am dropping out of the Democratic Party as they don't have any real Democrats left in the process.
Molly Ivins wrote a column back in January of 2006, I will not support Hillary Clinton for president, pretty much explaining why Clinton is a bad idea. The last time people didn't listen to Molly, we ended up with the Shrubbery. She was a great loss to the country, as she told the truth.
Natasha wondered about the other candidate in Obama: Another Liberdem? The answer is yes. Don't listen to his speeches, read his positions. The man has more in common with Arlen Specter than John Kennedy. He's a moderate to conservative Republican and further to the right than Hillary Clinton.
The Division of Elections says there are 10,203,112 registered voters in Florida. In that number, 4,137,067 [40.55%] are registered as Democrats, and 3,825,727 [37.50%] as Republicans.
In the election, 4,239,350 [41.55%] voters showed up to cast a ballot.
For the Republican primary, 1,924,346 [50.30% of those registered] voted, while in the Democratic primary, 1,734,456 [41.92%] voted, for a total of 3,658,802 Presidential primary voters.
On the question of Amendment 1, the so-called tax cut, 4,132,687 people voted 2,648,956 [64.10%] for the amendment, and 1,483,731 [35.90%] against, so it is now part of the Florida constitution.
Events
1649 – King Charles I of England is beheaded.
1661 – Oliver Cromwell, Lord Protector of the Commonwealth of England is formally executed – after having been dead for two years (it's never too late for revisionism).
1835 – A mentally ill man named Richard Lawrence attempts to assassinate President Andrew Jackson in the United States Capitol — the first assassination attempt against a President. Both of Lawrence's pistols misfire, and Jackson proceeds to beat his would-be assassin with his cane.
1889 – Archduke Crown Prince Rudolf of Austria, heir to the Austro-Hungarian crown, was found dead with his mistress Baroness Mary Vetsera in Mayerling. How they died remains a mystery.
This is certainly nice outreach: US Democrats Overseas Set to Vote in High-Tech Global Election.
So if I were a Democrat living in Milton, Ontario, Canada or Milton, Queensland, Australia, I would be represented at the Democratic National Convention in Denver. If I lived in Milton, Iowa or Milton, New Hampshire I would have been sick of seeing candidates and would be among the first people counted. It's just Democrats who live in Milton, Florida that can't be counted.
If I sound bitter, it's because I am. I vote in every election that is held and I am constantly being disenfranchised by one group or another since I came back to Florida.
I don't like moving, but it is becoming rather obvious that as long as I stay in this state I'm not going to have my vote counted by anyone.
Rook notes that Democratic voters had problems in Central Florida and Kevin Hayden has more reporting on that.
The I-4 Jammer notes that Polk County ran out of ballots in some precincts.
I noted that the state started posting results before the polls closed.
When, exactly, is this state going to figure out how to run an election?
The site has been acting up and not always loading immediately.  There doesn't seem to be anything specific wrong, but sometimes you can't reach it.  I hate intermittent problems.
Election results are not supposed to be posted until the polls close, but once again Tallahassee has forgotten that the Panhandle is in the Central Time Zone and has been putting up results since the polls closed in the Eastern Time Zone.  The polls will actually close in a couple of minutes.
Update: I finally located the Official Returns link, that isn't on the Division of Elections page because people might look at it if they could find it. 😈
The Florida primary is today and everyone needs to go to the polls and vote, even if the Democratic National Committee doesn't recognize the votes. because the Republicans have a nasty tax cut on the ballot that needs to be defeated. The only people who will be helped by Amendment 1 are the same old group that has been helped by several earlier measures. New homeowners get nothing from it, and the state legislature is setting up the school districts for another funding cut, forcing the districts to either reduce services in our already marginal system, or raise school property taxes. It's the Reagan tax fake – the guys at the top cut taxes forcing the guys below them to raise taxes to make up the lost revenue.
The Florida tax code needs to be rewritten, not patched, but the legislature doesn't want to do the work.
Tonight was the last official act the Shrubbery is required to do before leaving office. That's it. If he doesn't do another thing, and based on past performance he will spend a lot of time doing nothing, he's square with the requirements of his job. Amazing isn't it. He has managed to make the Presidency of the United States the biggest no-show job in the country. There are things he can do, appoint people, sign or veto bills, etc. but he's not required to do them. Nope, the speech was it.
If you're interested MSNBC provides the text of the speech he was supposed to give. Who knows what he actually said, but he took 53 minutes for a six page speech.
They also have the text of the Democratic response delivered by Governor Kathleen Sebelius of Kansas. It's only one page but she makes her point – we have problems and it would be nice if the President would join us in solving them.
FYI: the Florida League of Cities is the prime mover behind Florida is Our Home, the organization sending out all of the fliers and making the robo-calls against Amendment 1. I agree with them on the amendment, but they should tone down the rhetoric.
Here's the text that will appear on your ballot tomorrow:
CONSTITUTIONAL REVISION

ARTICLE VII, SECTIONS 3, 4, AND 6

ARTICLE XII, SECTION 27

(Legislative)

Property Tax Exemptions; Limitations on Property Tax Assessments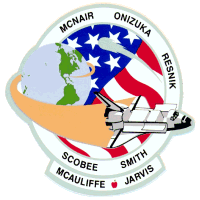 January 28, 1986
Commander:
Francis R. (Dick) Scobee, Lieutenant Colonel, USAF
Pilot:
Michael J. Smith, Commander, USN
Mission Specialist:
Judith A. Resnik
Ronald E. McNair
Ellison S. Onizuka, Lieutenant Colonel, USAF
Payload Specialist:
Gregory B. Jarvis
Sharon Christa McAuliffe