Posts from —
February 2008
Who knew Emily Litella was a Federal Judge?
CNet reports Judge: Wikileaks gets its domain name back.
Essentially after being beaten about the head and shoulders for several hours by a mob of lawyers with rolled up copies of the Bill of Rights, the judge felt he may have been hasty in the ham-handed approach he took to the entire Wikileaks case and "erased" all of his orders and injunctions to avoid being thoroughly embarrassed by the guaranteed appeal to the Ninth Circuit.
The case isn't over, but the judge's foray into prior restraint most definitely is.
February 29, 2008 Comments Off on Never Mind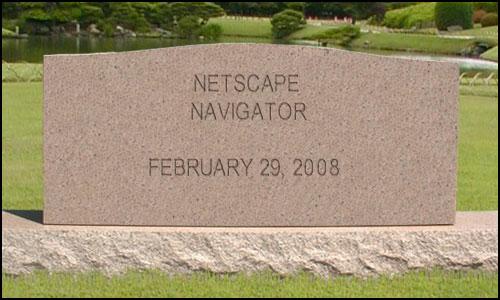 February 29, 2008 16 Comments
Received via e-mail:
The purpose of this survey is to examine how people think and feel about the political issues, parties, and candidates in the upcoming election. In the survey, you will be asked a series of questions about two political candidates, John McCain and Hillary Clinton. We are very interested in how individuals that find information on the web think about politics, and your participation would be greatly appreciated. In total, the survey should take about 15 minutes to complete. The survey is completely anonymous and you can skip any questions you do not wish to answer.

Click here to take the survey:

http://www.ic.sunysb.edu/stu/crweber/TAKESURVEY/election_2008.htm

Please feel free to contact Chris Weber (crweber@notes.cc.sunysb.edu) at Stony Brook University with any questions or concerns. Thanks for your help!
As a former member of the masses in the State University of New York system I'm passing this along. Trying to get people to take surveys when you're a graduate student [my assumption of Chris Weber's status] is a major pain, but the difference between a grade and an incomplete. If you can find the time, take the survey.
At their request, the comments are shut down for this post, and they ask that you not discuss questions on the survey with others.
February 29, 2008 Comments Off on A Student Request
Sorry About That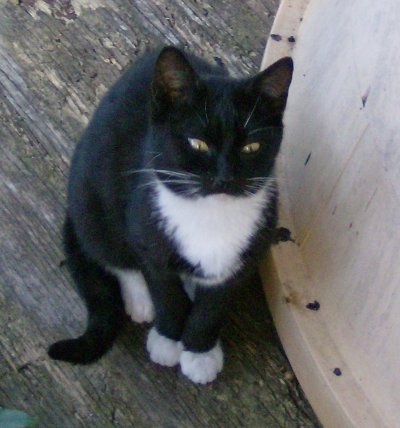 Where's the food?
[Editor: Back in November I incorrectly labeled this then kitten as Pavlov, when, in fact, she should be called Pavlova. The spinning when I came out should have been a clue. Even as a "teenager", she still shows up whenever I open the back door hoping for an extra meal.]
February 29, 2008 10 Comments
Update: Thanks to the media Harry withdrawn from Afghanistan.
The BBC reports that Prince Harry in Taleban fighting
Prince Harry has been fighting the Taleban on the front line in Afghanistan, the MoD has confirmed.

Harry, 23, who is third in line to the throne, has spent the last 10 weeks serving in Helmand Province.

The prince joked about his nickname "the bullet magnet", but said: "I finally get the chance to do the soldiering that I want to do."

The deployment was subject to a news blackout deal, which broke down after being leaked by foreign media.
Cornet Wales is serving with a Ghurka unit as a forward air/artillery controller. He's obviously serious about his career in the military and pushed hard for a combat assignment. It's too bad the media couldn't let him serve out his tour unmolested.
February 28, 2008 17 Comments
Last week the 'virtual fence' was the greatest thing since sliced bread, and was helping the Border Patrol scoop up scads of bad guys.
This week the Washington Post reports 'Virtual fence' along border to be delayed
The Bush administration has scaled back plans to quickly build a "virtual fence" along the U.S.-Mexico border, delaying completion of the first phase of the project by at least three years and shifting away from a network of tower-mounted sensors and surveillance gear, federal officials said yesterday.

Technical problems discovered in a 28-mile pilot project south of Tucson prompted the change in plans, Department of Homeland Security officials and congressional auditors told a House subcommittee.

Though the department took over that initial stretch Friday from Boeing, authorities confirmed that Project 28, the initial deployment of the Secure Border Initiative network, did not work as planned or meet the needs of the U.S. Border Patrol.
February 28, 2008 11 Comments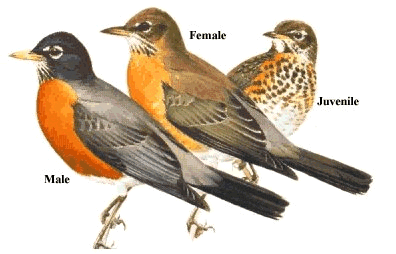 Once again we must endure the arrival of the Turdus migratorius [the accent is on the first syllable] or American robin as they descend in their horde to strip a local variety of tree of its purple berries which are rapidly processed and deposited on everything.
Things are always brighter after their visit, because if you don't scrub everything down almost immediately the stains from the partially digested berries are damn near impossible to get off. The berries are slightly fermented, so you end up with a neighborhood of loud avian drunks – sort of a cross between The Birds and Animal House.
In normal years we could expect things to start getting warmer, but they are arriving on a day when the overnight temperature will dip below freezing. This year is much wetter than normal and cooler.
February 27, 2008 15 Comments
Or this this case, legislators, they act according to their inherent nature. they propose laws, with no regard to reality or possible unintended consequences.
Declan McCullagh writing in the CNet blog, The Iconoclast, reports Senate antiphishing bill outlaws…what's already illegal
Democratic Sen. Bill Nelson (Fla.) and Republicans Olympia Snowe (Wash.) and Ted Stevens (Alaska) introduced a bill this week called the Anti-Phishing Consumer Protection Act. It contains 31 pages of new regulations that could raise the cost of doing business for legitimate companies–but will do little to stop the malcontents behind phishing attacks.
…
February 27, 2008 5 Comments
The BBC reports: EU fines Microsoft record $1.4bn
The European Commission has fined US computer giant Microsoft for defying sanctions imposed on it for anti-competitive behaviour.

Microsoft must now pay a record 899m euros ($1.4bn; £680.9m) after it failed to comply with a 2004 ruling that it abused its position.

The ruling said that Microsoft was guilty of not providing key code to rival software makers.

EU regulators said the firm was the first to break an EU anti-trust ruling.

The fines come on top of earlier fines of 280m euros imposed in July 2006, and of 497m euros in March 2004.

"Microsoft was the first company in 50 years of EU competition policy that the Commission has had to fine for failure to comply with an antitrust decision," Competition Commissioner Neelie Kroes said in a statement.
The Europeans aren't kidding, and the way the dollar is tanking, they might want to pay it quickly. The real question is whether Microsoft will take a hint, but I doubt it.
These are the kind of fines that actually get corporations' attention, maybe the US government…nah, never happen.
February 27, 2008 2 Comments
One of the holdovers from my time in Alaska is an appreciation of the Iditarod Sled Dog Race. I covered it last year and will have another go when it starts this coming Saturday, March 1st.
Coverage on the 'Net is provided by the official site, the Anchorage Daily News site, and Iditablog. I've added an Iditarod header, which will come up randomly.
This year also marks the Centennial of the All Alaska Sweepstakes which is a $100,000 winner take all race from Nome to Candle and back, the first of the sled dog races. In Alaskan fashion the entry fee is $2000 + an ounce of gold.
Last year's winner, Lance Mackey is back, having just won the Yukon Quest race for the fourth time, but he may ease up looking to prepare for the Sweepstakes, and not repeat the Yukon Quest/Iditarod double win of last year.
Also back is Rachael Scdoris, the legally blind musher from Bend, Oregon.
Two who won't be back are Tim Osmar, who severely broke an ankle fighting a fire this past summer, and Doug Swingley, who decided to retire after multiple broken bones in last year's race.
The trail has had to be moved again because of climate change, but conditions are described as good with snow on the course of this year's race.
February 26, 2008 5 Comments
Via MSNBC, the Associated Press reports: Microsoft Hotmail still down for some
SEATTLE – An undisclosed technical glitch blocked users from logging on to Microsoft Corp.'s free Web-based e-mail service and other sites Tuesday.

(Msnbc.com is a joint venture of Microsoft and NBC Universal.)

After several hours, the software maker was able to reduce but not completely fix the problem that left Web surfers around the world unable to access Hotmail and other services that require a Microsoft login. Those include the Xbox Live video game community site and the Windows Live Messenger instant messaging program.
This is the problem of relying on a single vendor for all of your IT services, if they have a problem you are dead in the water. MS has been promoting their "passport" service, where everything flows through their servers to give you access to everything else. If you have a web-based business you could end up paying people to sit around all day because of a broken pipe in a server building. This is how "free" services become very expensive.
February 26, 2008 2 Comments
From the Miami Herald: Alvarez: No 'criminal activity' in power failure
Power outages cascaded through much of South Florida and many other parts of Florida Tuesday, causing major disruptions for millions of people around the region and the state.
…

Both nuclear reactors at FPL's Turkey Point's tripped off unexpectedly Tuesday — taking a plant that supplies power to more than 450,000 homes almost instantly off-line — though it wasn't immediately clear what triggered the automatic shutdowns.

"We have reports that the nuclear unit scrammed [experienced unexpected shut downs], but we do not why at this point," said Ken Clark, a spokesman for the Nuclear Regulatory Commission's regional office in Atlanta.
February 26, 2008 4 Comments
Some people would have used this picture, but that would be tacky, offensive, and Republican, so I didn't, even though it was dropped in my lap by I Can Has Cheezburger?.
The main reason is that I am no longer part of the kindergarten campaign season that skippy, Frederick, and Dave are talking about. With McCain's campaign finance problems and the schoolyard garbage on the other side, this will probably be one of the lowest turn out elections ever. The scary part is we may end up with President Ralph.
February 26, 2008 8 Comments
The Associated Press reports that Man Dies After Shark Attack Off Fla. Coast
(AP) An Austrian tourist died Monday after being bitten by a shark while diving near the Bahamas in waters that had been baited with bloody fish parts to attract the predators.
…

A woman who answered the telephone at Scuba Adventures on Monday said the company had no comment.

The company's Web site says it offers the opportunity to get "face to face" with sharks. The site explains that its hammerhead and tiger shark expeditions in the Bahamas are "unique shark trips … run exclusively for shark enthusiasts and photographers."
[Read more →]
February 25, 2008 8 Comments