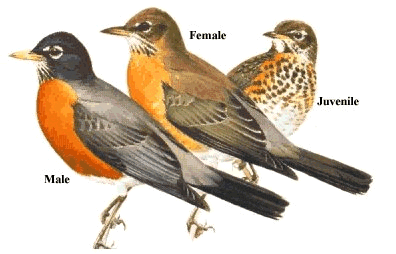 Once again we must endure the arrival of the Turdus migratorius [the accent is on the first syllable] or American robin as they descend in their horde to strip a local variety of tree of its purple berries which are rapidly processed and deposited on everything.
Things are always brighter after their visit, because if you don't scrub everything down almost immediately the stains from the partially digested berries are damn near impossible to get off. The berries are slightly fermented, so you end up with a neighborhood of loud avian drunks – sort of a cross between The Birds and Animal House.
In normal years we could expect things to start getting warmer, but they are arriving on a day when the overnight temperature will dip below freezing. This year is much wetter than normal and cooler.
February 27, 2008 15 Comments
Or this this case, legislators, they act according to their inherent nature. they propose laws, with no regard to reality or possible unintended consequences.
Declan McCullagh writing in the CNet blog, The Iconoclast, reports Senate antiphishing bill outlaws…what's already illegal
Democratic Sen. Bill Nelson (Fla.) and Republicans Olympia Snowe (Wash.) and Ted Stevens (Alaska) introduced a bill this week called the Anti-Phishing Consumer Protection Act. It contains 31 pages of new regulations that could raise the cost of doing business for legitimate companies–but will do little to stop the malcontents behind phishing attacks.
…
February 27, 2008 5 Comments
The BBC reports: EU fines Microsoft record $1.4bn
The European Commission has fined US computer giant Microsoft for defying sanctions imposed on it for anti-competitive behaviour.

Microsoft must now pay a record 899m euros ($1.4bn; £680.9m) after it failed to comply with a 2004 ruling that it abused its position.

The ruling said that Microsoft was guilty of not providing key code to rival software makers.

EU regulators said the firm was the first to break an EU anti-trust ruling.

The fines come on top of earlier fines of 280m euros imposed in July 2006, and of 497m euros in March 2004.

"Microsoft was the first company in 50 years of EU competition policy that the Commission has had to fine for failure to comply with an antitrust decision," Competition Commissioner Neelie Kroes said in a statement.
The Europeans aren't kidding, and the way the dollar is tanking, they might want to pay it quickly. The real question is whether Microsoft will take a hint, but I doubt it.
These are the kind of fines that actually get corporations' attention, maybe the US government…nah, never happen.
February 27, 2008 2 Comments