The Associated Press has a feature on people who are dependent on the stock market for their retirement. This is the wonderful future that the Hedgemony thinks everyone should share – the cat food diet when corporations behave badly and the market drops like a rock.
If you look at brokerage literature or web sites you may notice in some inconspicuous place warnings like these: "Brokerage Products: Not FDIC Insured • No Bank Guarantee • May Lose Value" or "Yields quoted are past performance and no guarantee of future results". They are telling you that you are gambling on your future, and that gamble doesn't always pay off. Are you feeling lucky? Well, are you?
February 10, 2008 6 Comments
CNet reports on another of the many "security" mandates about to take effect: Federal buildings become Real ID zones
…Starting May 11, Americans living in states that don't comply with new federal regulations could be barred from entering Washington D.C.'s visitor center and collecting the complimentary maps and brochures–unless they happen to bring a U.S. passport or military ID with them.

That not-very-welcoming rule is part of a 2005 law called the Real ID Act, which takes effect in just over three months. It says that driver's licenses from states that have not agreed to Real ID mandates from the Department of Homeland Security, or which have not requested a deadline extension, can no longer be used to access "federal facilities."
The Federal government still hasn't managed to design, much less produce, a reasonable ID card for airports or seaports, but you are going to need a "Real ID" card to report for Federal jury duty…except that you won't if your state has said that it will produce a "Real ID" at some point, then the unReal drivers' license you currently have is fine… possibly.
February 10, 2008 9 Comments
Florida License Plates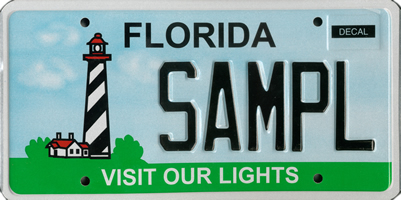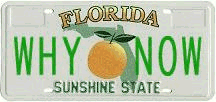 A weekend feature of Why Now.
February 10, 2008 5 Comments