Tonight was the last official act the Shrubbery is required to do before leaving office. That's it. If he doesn't do another thing, and based on past performance he will spend a lot of time doing nothing, he's square with the requirements of his job. Amazing isn't it. He has managed to make the Presidency of the United States the biggest no-show job in the country. There are things he can do, appoint people, sign or veto bills, etc. but he's not required to do them. Nope, the speech was it.
If you're interested MSNBC provides the text of the speech he was supposed to give. Who knows what he actually said, but he took 53 minutes for a six page speech.
They also have the text of the Democratic response delivered by Governor Kathleen Sebelius of Kansas. It's only one page but she makes her point – we have problems and it would be nice if the President would join us in solving them.
January 28, 2008 4 Comments
FYI: the Florida League of Cities is the prime mover behind Florida is Our Home, the organization sending out all of the fliers and making the robo-calls against Amendment 1. I agree with them on the amendment, but they should tone down the rhetoric.
Here's the text that will appear on your ballot tomorrow:
CONSTITUTIONAL REVISION

ARTICLE VII, SECTIONS 3, 4, AND 6

ARTICLE XII, SECTION 27

(Legislative)

Property Tax Exemptions; Limitations on Property Tax Assessments
January 28, 2008 4 Comments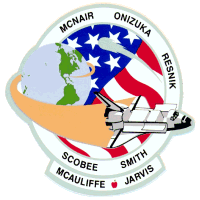 January 28, 1986
Commander:
Francis R. (Dick) Scobee, Lieutenant Colonel, USAF
Pilot:
Michael J. Smith, Commander, USN
Mission Specialist:
Judith A. Resnik
Ronald E. McNair
Ellison S. Onizuka, Lieutenant Colonel, USAF
Payload Specialist:
Gregory B. Jarvis
Sharon Christa McAuliffe
January 28, 2008 3 Comments