In response to the "economic slowdown" plan of the Hedgemony Paul Krugman noted the Return of the tax families, the examples used to terrify people into supporting more and more tax cuts.
One of the examples was "A single mom with two children and $30,000 in earnings would see her taxes go up by 67 percent."
I realize I'm not one of the VSP, but only the humble proprietor of an on-line opinion magazine. I do however possess the 2007 1040 Forms & Instructions courtesy of the wonderful people at the Internal Revenue Service [available in PDF format at Forms and Publications. A little sucking up can't hurt, right?]
I decided to find out what "Mom" pays in taxes, and how a 67% increase will hurt. No need to get carried away, so we'll use the standard deduction, nothing fancy, no tax dodges, just a standard vanilla 1040.
January 20, 2008 6 Comments
Actually this is a bigger joke than I assumed below.
Disregard any and all numbers being reported, and any claims of victory or loss in Nevada. From dday at Hullabaloo, who talked to the head of the Democratic Party in Nevada, nothing was decided. This vote was to select 11K delegates to county conventions, where they will select delegates to the state convention, where the actual delegates to the national convention will be selected. Until the roll call at the national convention, no one will know who won Nevada. This was not what we thought it was, is irrelevant to the selection process, and tells us nothing about the eventual nominee – it's a freaking poll!
See Non Sequitur for a further explanation.
January 20, 2008 9 Comments
Even if the Democrats don't find a spine and impeach the criminal conspiracy now in charge, in one year a new gang gets the keys to the government.
Can the nation survive?
January 20, 2008 9 Comments
Florida License Plates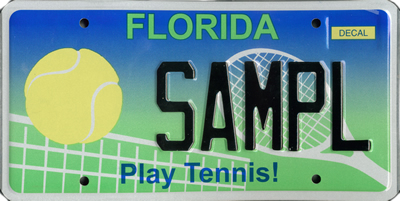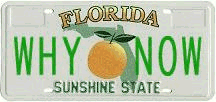 A weekend feature of Why Now.
January 20, 2008 Comments Off on Passing the Plate