Posts from —
November 2007
The Pensacola Beach Blog has put together a nice post about the situation in surrounding Richard "Dickie" Scruggs, Mississippi Blinding, cautioning people not to jump to conclusions.
There are a lot of people who have a lot of negative things to say about Dickie Scruggs and his law practice. Most have lost to him big time and don't like it. One of the things no one has ever accused him of, is being stupid.
The claim is that, through another attorney, Dickie tried to bribe a judge in a case involving over $12 million in attorney's fees and expenses. Some have claimed that Dickie's brother-in-law, Trent Lott, resigned from the Senate over this matter, and that might be partially true, but not for the reason people assume.
November 30, 2007 2 Comments
The Associated Press could use a few good people with some medical knowledge to help them with the reporting on emerging threats: New deadly strain of Ebola emerges
A new strain of Ebola virus has infected 51 people and killed 16 in an area near Uganda's border with Democratic Republic of Congo, U.S. health experts said on Thursday.
…

Ebola is a hemorrhagic fever, meaning it can cause internal and external bleeding. Victims often die of shock but symptoms can be vague, including fever, muscle pain and nausea.
November 30, 2007 14 Comments
Poser and Pavlov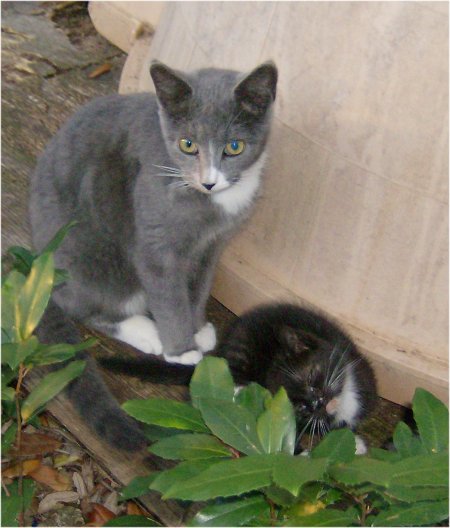 [scritch…scritch…] Is it food?
[Editor: The gray juvenile is Poser, who strikes a pose whenever I see him, and the kitten dealing with an ear scratch is Pavlov. Pavlov is programmed to come running out whenever I open the back door in hopes of more food.]
November 30, 2007 14 Comments
I don't know why people are surprised by this total lack of professionalism by the legacy media™, they do it to Democratic candidates all the time.
The CBS News web site featured the story by Perry Bacon Jr. that appeared on the front page of the Washington Post: Obama Dogged By Muslim Rumors Washington Post: Foes Use Candidate's Muslim Ties To Fuel Speculation About His Faith.
The rumors weren't being spread as quickly or widely as the corporate media wanted, so they opened the front page of a national newspaper to the bottom feeders. There is no investigation of what is being said, just the repetition of the garbage.
When this story first appeared it took me less than an hour to figure out what was going on. The sources that you need are on the 'Net, and in English. Several European media operations contacted reporters in the area where Obama's family lived and determined the entire scenario was bogus.
Pathetic.
November 29, 2007 6 Comments
R. Neal of Facing South reports the very predictable story: Local governments make run on Florida investment fund.
Why are local governments trying to get their money out of the State investment fund? Well, let's guess – it is run by Republicans and what is the worse thing to be invested in at the moment? Got it in one, they have a big chunk of the fund in sub-prime mortgage paper. It was another Ponzi scheme that promised absurd payoffs, so of course they used the State Employees Pension fund and the Local Governments operating capital to buy into them.
Just like the derivatives mess all over again.
November 29, 2007 2 Comments
A lot of people have written about this blatant violation of our civil rights, but I'll use Declan McCullagh's post at CNet's The Iconoclast blog, Congress' "anti-extremist" bill targets online thoughtcrime, to air my other complaints, i.e. those not directly related to the Stalinist nature of this "law."
The Violent Radicalization and Homegrown Terrorism Prevention Act (VRAHTPA) is going to establish the National Commission on the Prevention of Violent Radicalization and Homegrown Terrorism, a $20 million boondoogle for cronies and relatives, to sit around and surf the 'Net. Oh, yes, they have to produce occasional reports that will be classified and, no doubt, add names to the totally worthless "No-Fly list" which will soon include everyone in the world at the rate it's growing, and this will do what? What do the people who created and voted for this turkey think will be accomplished? What necessary function of government is implemented by this commissariat?
November 29, 2007 7 Comments
It's nice to know the Hedgemony is consistent: U.S. Students Lose Ground On Reading Tests – American Fourth Graders Score The Same As 2001, Outperformed By 10 Other Nations
(AP) U.S. fourth-graders have lost ground in reading ability compared with kids around the world, according to results of a global reading test.

Test results released Wednesday showed U.S. students, who took the test last year, scored about the same as they did in 2001, the last time the test was given, despite an increased emphasis on reading under the No Child Left Behind law.
All NCLB has proven is that you can teach children how to take a test, but that only improves their performance on that test. For those who don't know, there aren't many jobs for "test takers."
November 29, 2007 5 Comments
It is so annoying reading about the stupid things that candidates are saying in the misguided belief that it will protect them from attacks. Nothing is going to stop or slow down the attacks, and facts are not influential.
No matter what you do or say, if you are a Democrat the conventional wisdom will be: you are weak on crime, weak on national defense, and will "tax and spend."
Understand, you could start gunning down illegal parkers, capture Osama bin Laden with your bare and hands and haul him in chains to the Capitol rotunda, and manage to start paying down the debt, but you will be accused of the same troika of crimes by the GOP.
The media made up lies about Al Gore. They were proven to be lies, but you will still hear the media refer to Al Gore as the liar. The facts have not been relevant in a political campaign in the United States since the media conglomerates decided there was more money in entertainment than journalism. If an attack makes for good television, it will be aired, no matter how outrageous.
November 28, 2007 2 Comments
CNN reports on a poll in my state, Florida Republicans reveal views on issues, candidates, that makes no sense.
They say flatly that Giuliani is it, but later on point out that 47% of the people polled haven't made up their minds yet. Well, if half of the voters haven't made up their minds, the poll tells us nothing about who is actually leading. Giuliani may be leading among those who have made a decision, but there are two months before the primary. It's a waste of time, money, and space to talk about it.
They fact that only one in five Republicans support an abortion ban is interesting, but most of the "horse race" nonsense they are trying to get out of the poll is worthless.
November 28, 2007 1 Comment
This is a fifth column operation from Ship of Fools, a Christian site, that reports on things that could show up in Christian stores. The BBC has a slideshow of Kitschmas, and it isn't pretty.
I know people among my local friends and neighbors who would actually buy this stuff and give it to people, and they wouldn't consider it a joke. These are people with camouflage cases for Bibles to take hunting with them.
November 28, 2007 Comments Off on War On Christmas
I know this is rare, but apparently there are still a few Federal Magistrates out in the hinterlands who have actually read the US Constitution and thinks it's important.
The Associated Press reports Feds retreat on Amazon buyers' identities
MADISON, Wisconsin – U.S. prosecutors have withdrawn a subpoena seeking the identities of thousands of people who bought used books through online retailer Amazon.com Inc., newly unsealed court records show.

The withdrawal came after a judge ruled the customers have a right to keep their reading habits from the government.
November 27, 2007 2 Comments
If you wonder how the University of Florida can hire a football coach for $2 million/year, one of the reasons is the concoction mixed up by Dr. Robert Cade, UF Researcher Who Invented Gatorade
Now sold in 80 countries in dozens of flavors, Gatorade was born thanks to a question from former Gator Coach Dwayne Douglas, Cade said in a 2005 interview with The Associated Press.

He asked, "Doctor, why don't football players wee-wee after a game?"

"That question changed our lives," Cade said.
November 27, 2007 6 Comments
The Harry Potter series has concluded, so it's time to find a new target in children's literature.
The BBC reports on the controversy:Golden Compass author hits back [They note "Warning: This story contains plot spoilers"]
The author of the book on which the new film The Golden Compass is based has hit back at critics who accuse him of peddling "candy-coated atheism".

Phillip Pullman dismissed as "absolute rubbish" accusations by the US-based Catholic League that the film promotes atheism and denigrates Christianity.
November 27, 2007 7 Comments
Ted Barlow Disease has created another blank on my blogroll. Peripetia has succumbed.
Karen had some medical problems that interfered with her blogging and Len, Der Verrückte Philosoph, was filling in, but now blogger gives you a 404 message. Sorry to see them go.
November 27, 2007 4 Comments