Posts from —
November 2007
Someone else saw this first, and when I find the reference I'll link to it, but if you are interested in the US mortgage meltdown, you have to read the European papers to find out about it. Outside of a few specialty newspapers, there is almost no national reporting on this disaster, and be aware it is a disaster. This is going to end up worse than the savings and loan mess, and the national press isn't reporting on it.
November 27, 2007 5 Comments
Trent Lott is resigning from the Senate at the end of this year, but the timing will be negotiated with the governor of Mississippi to avoid a 90 day special election and allow for an interim appointment by the governor [another Repub] and the election to take place on Election Day, 2008. The Washington Post has multiple updates on its resignation article explaining what is going on with the seat.
There is a lot of speculation as to the reason for this sudden announcement, but it may not be so sudden. Lott wasn't all that thrilled about running again in 2006, but did so because of the argument that he would be more effective in getting aid for Mississippi after Katrina as a senior Senator, than any new Senator could possibly be. Of course, when the Repubs lost their majority in the Senate, his influence was diminished, and 2008 looks to be even worse with all of the other resignations.
He might be resigning to go into lobbying, or because there is some scandal brewing, but it may just be that he's tired of the whole mess.
November 26, 2007 2 Comments
The BBC delves into another facet of the financial problem: Mathematicians' role in market mayhem
The financial markets are increasingly dominated by a new breed of highly mathematical traders, known as quantitative analysts or "quants".

Whilst some celebrate the fact that empirical techniques are now applied to trading, others blame the quants for the current credit squeeze.
…
November 26, 2007 5 Comments
Because the current US economic problems have global implications, the BBC has The US sub-prime crisis in graphics, which is a decent, if simplified, explanation of what has been going on the US mortgage market, and why it's a mess.
The Dow is down a couple of hundred points again today, and this thing is not even close to over. The worst is, indeed, yet to come, and a major British bank is up for sale, while a major German bank may soon be because they invested in the US mortgage bonds.
Frankly at this point I think the Republicans are hoping for a recession, as it is very possible that the mortgage gamblers may have ignited a total collapse and a Depression. Every time the government let's these people off the leash they crap in middle of the living room. They can't be trusted without regulation, because they will engage in this destructive behavior every time you leave them unattended. They don't learn. They aren't trainable. They need keepers.
November 26, 2007 4 Comments
Logan Murphy at Crooks and Liars reports on it as Pentagon Leaves 20,000 Soldiers With Brain Injuries Off Official Wounded List, but that isn't the story from a vet's perspective.
First off, the Pentagon may not be trying to hide anything. The military has a peculiar, to those not in the military, way of accounting for injury, illness and death: it is by major command area. Any incident is assigned to the accounting area of the medical facility that reports the incident, not the area where it happened, and this is always the way the military has done it.
November 26, 2007 Comments Off on A Different Perspective
Kevin Drum at Political Animal introduces us to the new verb in Israeli government circles: Lecondel, to Condel (from Condoleezza Rice) – "to come and go for meetings that produce few results."
The BBC reports from the Arab League summit: Saudis to attend Mid-East summit
Saudi Arabia has said it will attend next week's meeting on the Middle East at Annapolis in the US.

Foreign Minister Prince Saud al-Faisal said he would go to the Maryland summit but that there would be no "theatrical show" with Israeli officials.
So, why are there no results expected?
November 25, 2007 2 Comments
November 25, 2007 Comments Off on Other Places
Peter Whoriskey writing in the Washington Post tells us that Biloxi's recovery shows post-Katrina divide
BILOXI, Miss. – Nowhere has the rebound from Hurricane Katrina been gaudier than along Mississippi's casino-studded coast.

Even as the storm's debris was being cleared, this city's night sky was lighted up with the high-wattage brilliance of the Imperial Palace, then the Isle of Capri, then the Grand Casino. More followed, and so did vacation-condo developers.
November 25, 2007 5 Comments
It would appear that YouTube is down, which is why you are seeing all of the large blank spaces on blogs.
All it says when you try to go directly to the site is: Http/1.1 Service Unavailable
Nothing yet to indicate what the problem is.
Update: it's back with no indication as to the problem at 12:45 CST.
November 25, 2007 2 Comments
Florida License Plates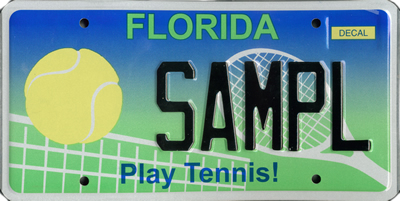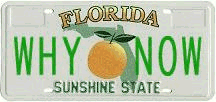 A weekend feature of Why Now.
November 25, 2007 4 Comments
Jack, the Grumpy Forester, heard them flying South over his place, meaning California was bringing in aircraft on Monday in anticipation of Santa Anas winds this week.
Unfortunately they are needed as CNN is reporting that Malibu is again in flames. Four dozen houses have already been lost and the fire is only 25% contained as hot, dry Santa Anas blow through the canyons at hurricane speeds.
There has also been fires in New Mexico and near Ramona in San Diego county. Rain is the only answer, and that isn't looking good.
November 24, 2007 6 Comments
The Associated Press reports from Baghdad: Iraq blast blamed on Iran-backed militants
BAGHDAD – The U.S. military on Saturday blamed the deadly bombing of a pet market in Baghdad on Iranian-backed Shiite militants, raising concerns that Shiite extremist activity could escalate and jeopardize waning violence in Iraq.
…

"In raids overnight, Iraqi and coalition forces were able to identify and detain four members of a militia extremist group we assess as responsible for this horrific act of indiscriminate violence," [U.S. spokesman Rear Adm. Gregory] Smith said. "Based on subsequent confessions, forensics and other intelligence, the bombing was the work of an Iranian-backed special groups cell operating here in Baghdad."
…
November 24, 2007 Comments Off on Weasel-Speak
Elizabeth Palmer of CBS News filed this White House propaganda piece: Notebook: Iran's Rhetoric Clear
This week at a nuclear conference in Tehran, Iran's new chief nuclear negotiator Sayeed Jalili said, "Nuclear weapons are inhuman and unacceptable. We are opposed to them on principle."

"We only want a nuclear program," the official line goes, "to fuel nuclear reactors for making electricity."

The rest of the world doesn't believe it.

France and Germany are now lockstep with the U.S. in an effort to introduce new sanctions against Iran, backed by the U.N. Security Council. China and Russia are hedging on sanctions, but they too are unsettled by Iran's nuclear program, which is already enriching uranium.
November 24, 2007 Comments Off on Even More Agitprop
Australia is holding a general election and things will get confusing for Americans because the labels and colors are mixed up.
The Hedgemony's good friend, Prime Minister John Howard, leads the conservative Liberal Party, the blues.
The main opposition party led by Kevin Rudd, is the liberal Labor Party, the reds.
While Labor has been leading in the national polls, this thing could be decided at the local level, and it's possible that the Liberals could hold on to power, but John Howard could lose his seat in parliament, as his constituency is not considered "safe."
Update: Looks like a big ALP [Australian Labor Party] win, and John Howard lost his seat in parliament, Bennelong.
November 23, 2007 5 Comments