Pandering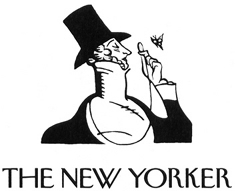 That is the iconic symbol of The New Yorker. The top-hatted gentleman with the monocle is Eustace Tilley. In Wikipedia's article on The New Yorker they note that the founder wasn't a populist:
Harold Ross famously declared in 1925 prospectus for The New Yorker: "It has announced that it is not edited for the old lady in Dubuque."
The New Yorker is assumed to be a "liberal" magazine, but the only instance of the editors endorsing a candidate was in 2004, and it was in reaction to the mess created by the Hedgemony.
I have a personal suspicion that the majority of the people commenting on the cover only look at the magazine for its cartoons, and then they probably don't understand a good number of them.  Charles Addams and Gahan Wilson are not known for slapstick.
The claim from the bloggers seems to be that the editors of The New Yorker should stop designing covers that appeal to its nearly 1 million subscribers, but instead consider the mythical centerist voters who don't buy or read the magazine and use only covers that appeal to people who are not and never have been aware of the magazine's existence.
The reason I used a bottle of Château Lafite Rothschild in my previous post is because a reader of The New Yorker would understand the reference, but the A-List will no doubt complain and suggest I should have said Gallo.
I realize that the members of the Oborg feel that the only plan is to give all control to "the great leader" and stop thinking, but Mr. Change just voted to give away my Constitutional rights and I'm not inclined to trust him on anything, much less everything.
The people who might be "swayed" or "confused" by the cover of the magazine weren't going to vote for Obama anyway.  They have a choice between a real Republican and faux Republican, so they'll vote for the real one.
Obama's problem isn't with the voters who don't understand the cover; it's with people who do.