I realize that there aren't very many reporters with actual military experience anymore. When there was a draft it was sort of a given that you would put in your two years and gain some insight, as well as expand your vocabulary. These days you're lucky if a journalist can recognize US military equipment and uniforms.
The front page of the Washington Post had an article on Senior Leader Intransit Conference Capsules [SLICC] which shows a total detachment from a military reality
The Air Force's top leadership sought for three years to spend counterterrorism funds on "comfort capsules" to be installed on military planes that ferry senior officers and civilian leaders around the world, with at least four top generals involved in design details such as the color of the capsules' carpet and leather chairs, according to internal e-mails and budget documents.
July 18, 2008 5 Comments
Over at NBC they had the story: Salmonella fears prompt N.C. food recall
RALEIGH, N.C. – State officials announced a recall of fresh jalapeno peppers and avocados distributed in North Carolina after samples from a food distributor tested positive for salmonella.

The N.C. Department of Agriculture and Consumer Services on Thursday said in a statement that it asked a Charlotte food distributor to recall the items it received from a Texas food supply company because of possible salmonella contamination.
…
July 18, 2008 4 Comments
RHIP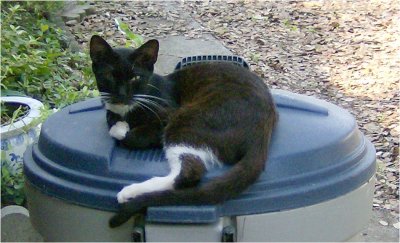 You got a problem with that?
[Editor: Last week Ringo was giving Oscar a hard time, and this week Pavlova has pulled rank to take over the garbage can.]
July 18, 2008 5 Comments