Is the Gulf of Mexico to become Лебединое Озеро?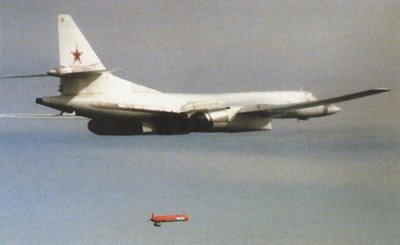 The Washington Post reports on Moscow rumors: Russian Bombers Could Be Deployed to Cuba
MOSCOW, July 21 — Russian bombers capable of carrying nuclear weapons could be deployed to Cuba in response to U.S. plans to install a missile defense system in Eastern Europe, a Russian newspaper reported Monday, citing an unnamed senior Russian air force official.
…

"While they are deploying the missile shield in Poland and the Czech Republic, our strategic bombers will already be landing in Cuba," Izvestia quoted the source as saying.

It was unclear if the source was suggesting that Russia would reopen a base in Cuba or merely use an airfield there for stopovers by the bombers, Tu-160s and Tu-95s, which are already capable of reaching the United States from bases in Russia.
The picture is of a Russian Tu-160 deploying a Kh-55 cruise missile. The missile is capable of carrying a 200 kiloton nuclear warhead, and the aircraft carries an even dozen of them.
NATO calls the aircraft the Blackjack, but Russians call it the Белый Лебедь, the White Swan.  The Russians call the Kh-55, the Гранат, the Pomegranate.  Why would the US get worried about White Swans carrying Pomegranates less than 100 miles from Florida?  Who could object to the Gulf of Mexico becoming Swan Lake?