The Situation in the Caucasus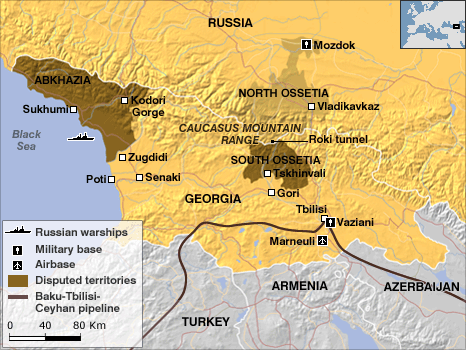 [Map from the BBC]
It would appear that Russia wants more than a "Kosovo solution" according to BBC reporting: Russian troops in Georgia advance
Russian troops have entered Georgia from the breakaway region of Abkhazia, as the conflict between the two neighbours appears to be broadening.

Moscow said it had launched a raid on the town of Senaki to stop Georgia from attacking Russian forces in South Ossetia, another breakaway region.

And Georgia says Russian troops have captured the town of Gori in central Georgia – a claim denied by Moscow.
…

Russia confirmed for the first time on Monday it had advanced beyond the borders of Abkhazia, saying it had launched an operation in the town of Senaki.

A defence official told the Interfax news agency the move was intended to prevent Georgian troops from shelling South Ossetia, and to stop them from regrouping.
…

BBC diplomatic correspondent Bridget Kendall says the further Russia penetrates into Georgian territory, the harder it is for Moscow to claim it occupies the high ground.

But, our correspondent adds, the worrying question is – does the Russian leadership care about its reputation abroad any more?
Based on the reporting, Russia, at a minimum would seem to want all of northern Georgia, connecting the two disputed regions, and Georgia doesn't have the resources to stop it or slow down the advance.
The US can't do anything, and neither can NATO without a member state involvement. The only possible savior of the Georgians at this point may be the Turks, if they feel their interests are threatened by this move. The Turks don't like Russians, and the mutual animosity goes back centuries, but there is no way of predicting when or if they might feel like acting.
The Ukraine may actually enforce their threat of denying the Black Sea fleet port rights, which leaves the Russians with a bit of a dilemma, as they have no suitable port facilities on their coastline.
All of the former republics are probably holding crisis talks at the moment.
Danger Room is reporting that Georgia is getting some help in another arena of the battle, cyberspace: Estonia, Google Help Cyberlocked Georgia
All of Georgia's Internet connections come through Russia, and they are under a sustained denial of service attack. Some things have been shifted to Blogger, and Estonia is helping with others. Estonia had earlier been attacked in a similar fashion during a controversy with the Russians.