There are two areas of interest in the Atlantic at the moment, Invests 92 and 93.
People in South Florida might want to check in on them before they become really interesting.  Invest 92 is closer, and the computer models have it headed towards the tip of the peninsula.  It's early in their development and they could fade away, but conditions are favorable for them to become problems.
August 11, 2008 Comments Off on Tropical Weather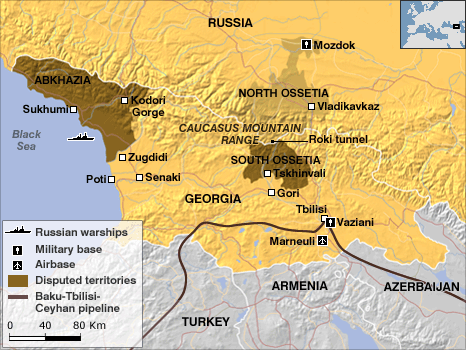 [Map from the BBC]
It would appear that Russia wants more than a "Kosovo solution" according to BBC reporting: Russian troops in Georgia advance
Russian troops have entered Georgia from the breakaway region of Abkhazia, as the conflict between the two neighbours appears to be broadening.

Moscow said it had launched a raid on the town of Senaki to stop Georgia from attacking Russian forces in South Ossetia, another breakaway region.

And Georgia says Russian troops have captured the town of Gori in central Georgia – a claim denied by Moscow.
…
August 11, 2008 9 Comments
Let's say you are a black family from Chicago and you really need a vacation.  Your choices are Hawaii and South Carolina – which would you choose?
Now we'll add that you have family in Hawaii and the father spent a major portion of his childhood, and graduated from high school there and that his grandmother, who raised him, is 85 and in failing health.
Of course, if they choose South Carolina, Gramma wouldn't mind.  She would tell everyone she knew several times a day how she didn't mind that they chose not to visit her.
I guess if you are a clueless Washington pundit who has no concept about how families actually work, you might believe that the Obamas had a choice.
August 11, 2008 5 Comments