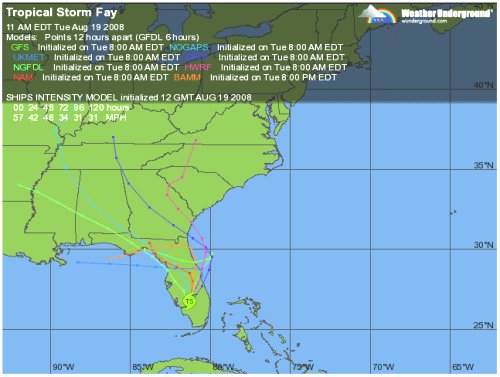 These are the results for the computer models, all initialized at the same time this morning. To say that the models can't figure this storm out is an understatement. This thing will be studied for a long time, but there is fortunately a lot of data available to look at.
August 19, 2008 9 Comments
Update: because I couldn't resist:
I have long complained about the media practice of sending some poor schlub out into the rain and winds of storms so the "folks at home" can experience how bad things are. I also complain about the idiots who head to the beach with their boards to "catch the awesome sets" that storms kick up as they approach.
Those people are Nobel Prize material compared this human shaped mildew. Channel 9 has video available so you can see what "Mr. Brilliant" did to himself because he thought kiteboarding in a tropical storm would be a great idea.
August 19, 2008 19 Comments

Position: 27.7 N 80.7 W. [10 PM CDT]
Movement: North-Northeast [030°] near 5 mph.
Maximum sustained winds: 50 mph.
Wind Gusts: 65 mph.
Tropical Storm Wind Radius: 140 miles.
Minimum central pressure: 990 mb.
It is 30 miles South-Southwest of Melbourne, Florida.
The pressure has fallen and there is what appears to be an eye forming. This storm is just weird. [Noon]
The wind speed is increasing!  If it gets over Lake Okeechobee this thing could reach hurricane intensity over land! This is not how things are supposed to work. [2 PM]
Dr. Jeff Masters: "Tropical Storm Fay (AKA "The Joker") is pulling a trick that may be unprecedented–significantly intensifying over land, developing a full eyewall." [3:09 PM CDT]
August 19, 2008 Comments Off on Tropical Storm Fay – Day 5