So, yesterday Microsoft tied up my Internet connection downloading Service Pack Three, having just recently tied up my Internet connection downloading the monthly collection of security patches.
So I shut everything down and started the process.  They tell you, you can continue working, but they prioritize what they are doing, so you are better off just waiting until it's over.  You already know they will want to reboot, so there's no point in trying to work.
The first thing they flashed up was a new End-User License Agreement [EULA], and I did a WHOA!  I already have a EULA for Windows XP, what it this all about?  I have no idea because major portions of the agreement are on pages on Microsoft's Web site.  These are things that they can change and they want me to agree that I am bound by whatever appears on those pages.  I don't think so.

Position: 29.7 N 84.2 W. [10 PM CDT]
Movement: West [270°] near 8 mph.
Maximum sustained winds: 50 mph.
Wind Gusts: 65 mph.
Tropical Storm Wind Radius: 90 miles.
Minimum central pressure: 997 mb.
It is 50 miles East of Apalachicola, Florida.
It is scheduled to arrive here at about 11 PM CDT tomorrow.
For whatever reason, today Feedjit decided I was on Eglin AFB.  So if you see Eglin Afb on your Feedjit widget, it was probably me.  I do live within a few miles of the main field at Eglin, but I'm not on the Base.
Kitty Kamo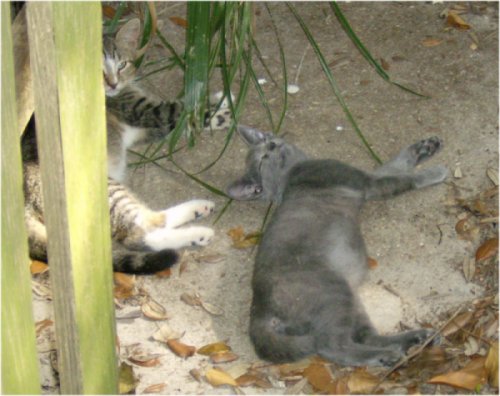 Ignore him, he can't see us.
[Editor: Note that the tabby is behind the shredded palm frond, while the blue is confident of blending with the concrete. BTW, I'm not kidding, they really think they are hidden, and in a gray scale world they are, to a great degree.]
In Memoriam: Phinky of Ignorant Hussy has lost her friend, Lee.
Interesting piece on feral cats who were a bit older – 1.8 million years.