Creative Cartography I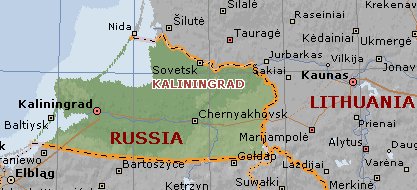 This is a map of the Kaliningrad Oblast of Russia. This area is where my family name comes from, but it was called Prussia when my great grandfather left in the 19th century to find his fortune and his wife in Berlin, before coming to the US. He spoke both Prussian, which was a Baltic language, and German.
As a result of World War II the area became part of the Soviet Union, and was assigned to the Russian SFSR.
It is currently part of the country of Russia. The water to the West is the Baltic Sea. The country to the South is Poland. As the map shows, Lithuania is to the north and East.
To drive to Kaliningrad from the rest of Russia you have to pass through two other countries. The most direct route would be through Belarus, and then Lithuania, but Russia kept it because it was a "prize" of the Great Patriotic War, and the Poles and Lithuanians were not considered helpful in that endeavor.
There was and is a lot of military in the area to remind people of certain possibilities, despite the expense of maintaining the area, and the lack of any historic ties to Russia.