Iditarod Preview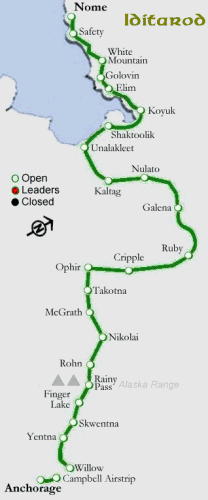 Next Saturday is Susan Butcher Day in Alaska, which means the start of the Iditarod.
As this is an even year, the race will use the northern loop from Ophir to Kaltag, and pass through lovely places like Galena [a former Air Force facility that put the COLD in Cold War].
If you had been paying attention there will be some familiar names among the 75 teams including Hans Gatt and the rest of the top six finishers in the Yukon Quest, as well as Sam Deltour of Belgium and Gerry Willomitzer of Whitehorse.
In addition to Sam Deltour the foreign mushers have Newton Marshall of Jamaica [completed the Yukon Quest last year], and Wattie McDonald and John Stewart of Scotland.
There are eight mushers in the Canadian contingent, four from the Yukon, two from Alberta, and one each from British Columbia and Ontario.
The real question is weather. The same pattern that has been sucking cold air into Florida has been pulling mild air into Alaska. I had Arctic Survival in March of 1968 and it didn't get above -40°, so temperatures above freezing at Nome are definitely not what I would have expected. The Yukon Quest was held a week earlier than in past years and the temperatures were moderate, so people may have to consider changing the dates to even earlier in the winter.