Update at 11:59PM CST. The Red Lantern is the last thing to be settled. Since Jocelyne LeBlanc is from Whitehorse, scratching wouldn't have made much sense, dispite having to leave half her team behind.
At Whitehorse
17 Bart DeMarie (14)R
18 Peter Fleck (24)R
19 Jennifer Raffaeli (16)R
20 Katie Davis (6)R
21 Pierre-Antoine Heritier (19)R
22 Jocelyne LeBlanc (8)R
Official Yukon Quest links: Live Tracking, Current Standings, and Current News.
The Mushers in bold are former winners of the Quest, the numbers in parentheses are their Bib numbers, and the small "R" indicates a rookie.
Note: This post will be updated during the day, and the map changed on all posts to reflect the current situation.
All posts on the Yukon Quest can be seen by selecting "Yukon Quest" from the Category box on the right sidebar.
February 19, 2010 Comments Off on Yukon Quest – Day 14
She's Back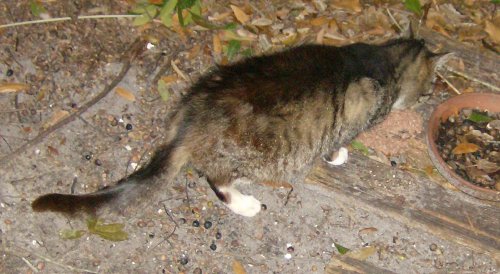 Go away, I'm eating!
[Editor: Molly holes up somewhere when it's cold, so I was looking for her to be back on Thursday and she arrived extra hungry. Actually, she followed me around and this is the third place she ate. She is at least twice as old as any of the other ferals.]
February 19, 2010 5 Comments