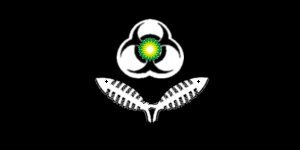 Today is the anniversary of the D-Day landings at Normandy in 1944, but it will now be remembered in Okaloosa County as the day the oil came ashore.
Instead of the "Jolly Roger", we should hoist the "Smirking Tony" [I wish] and call it Bloody Polluter not Billy Bowlegs.
To replace the landing of the pirates we could construct an old fashioned oil derrick and put it on a pontoon boat to slam into the Landing with people dressed in black wet suits swarming ashore over and under a boom. Instead of fireworks, we could move the derrick to the barge in the Sound and burn it along a few selected effigies of politicians who backed drilling in the Gulf.
We have consistently voted against off-shore drilling. We make no money from drilling in the Gulf. We are 158 miles away from the well. None of that matters because we have oil on our beaches. Don't try to tell us that this can be done safely, because it can't. None of the regulations mattered, and no one was bothered about the possible cost if the well blew out. The people who did this proved that they are incapable of controlling the situation. The corporations failed and the governments failed because of greed, so, until there is a proven cure for greed, no drilling.
June 6, 2010 4 Comments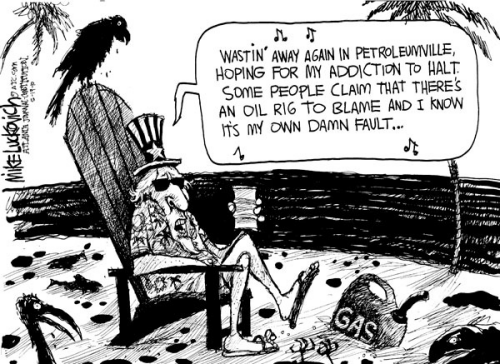 When he created the cartoon I doubt that Mike Lukovich knew that the man who wrote the parodied song was directly affected.
Deepwater Horizon is not what tropical troubadour Jimmy Buffett had in mind when he wrote "all of those tourists covered in oil" in his hit song "Margaritaville."

On Saturday, Buffett stood by his buddy Gov. Charlie Crist and said the oil spill should prompt us all to pursue solar and wind power and stop using so much oil.

Buffett — decked out in flip-flops, shorts, shades and a tattered cap that said "All who wander are not lost" — is a partner in the $50 million, 162-room, Gulf-front Margaritaville Beach Hotel opening on Pensacola Beach next weekend.
Jimmy is no kin to the Head HedgeHog Warren.
Since it's the weekend, via Avedon Carol a music video, a casual reminder of what corporations really represent.
June 6, 2010 9 Comments