In Group C:
Slovenia 2-2 US
England 0-0 Algeria
In Group D:
Germany 0-1 Serbia
The US was asleep in the first half, but came back. What would have been the winner for the US was disallowed. It wasn't clear why, but it was disallowed.
England didn't ever wake up against Algeria, but they had better because Slovenia can taste the knock out round.
Germany paid the price of not respecting their opponent, and this Cup is definitely getting weird.
Team
Group
Points
Matches
Goals
Played
Won
Tied
Lost
For
Against
Difference
C
2
2
0
2
0
3
3
0
C
2
2
0
2
0
1
1
0
D
3
2
1
0
1
4
1
3
D
0
1
0
0
1
0
4
-4
E
3
1
1
0
0
2
0
2
H
3
1
1
0
0
1
0
1
June 18, 2010 2 Comments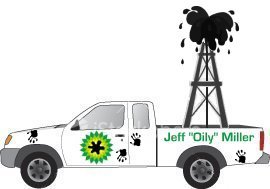 My Congresscritter, Jefferson Beauregard "Oily" Miller of Chumuckla, really ticked off a lot of people in 2006, when he voted to lift the ban on off-shore drilling. If the Democratic Party of Florida had had any money, that would have been the end of his career.
He is nearly invisible in Congress and feels comfortable enough with voters in the first district of Florida to occasionally do something for the whacko base, like putting up a sign in his office proclaiming his friendship with South Carolina Rep. Joe Wilson , the dillweed who yelled "You lie!" during a Presidential speech to a joint session of Congress.
The background is to give you an idea of how dangerous coastal Republicans think Joe Barton's apology to BP was to their reelection chances, dangerous enough for "Oily" Miller to attack Barton:
WASHINGTON — U.S. Rep. Jeff Miller called Thursday for fellow Republican Joe Barton of Texas to step down from his leadership position on the House Energy and Commerce Committee after Barton apologized to BP chief Tony Hayward.

"I am shocked by Congressman Joe Barton's reprehensible comments," Miller said in a statement. "Mr. Barton's remarks are out of touch with this tragedy, and I feel his comments call into question his judgment and ability to serve in a leadership position on the Energy and Commerce Committee. He should step down as ranking member of the committee."

Miller, a Chumuckla Republican, joined Obama adminstration officials and House Republican Leader John Boehner of Ohio condemning the comments.
Miller isn't interested in being hoisted upon his derrick or to become a "Gulf Gull" with tar and feathers.
Miller isn't eligible for a Captain Louis Renault Award, despite the use of "shocked", because Miller probably was shocked – by the local backlash, not Barton.
June 18, 2010 4 Comments
Fight – Flight – Play?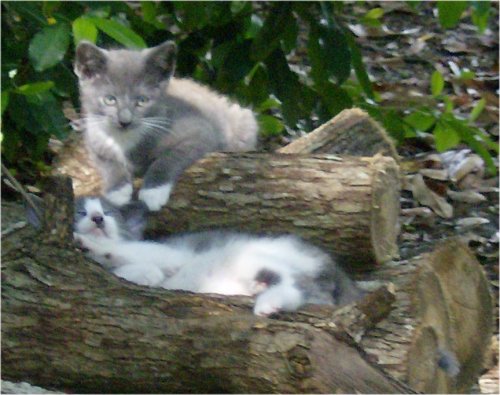 Ehrr?
[Editor: Pita again. With everyone else asleep or out of reach he paused to consider the choices. Thunderstorms have had the cats in hiding all day.]
June 18, 2010 6 Comments