Team
Group
Points
Matches
Goals
Played
Won
Tied
Lost
For
Against
Difference
C
5
3
1
2
0
4
3
1
C
5
3
1
2
0
2
1
1
D
6
3
2
0
1
5
1
4
D
4
3
1
1
1
3
6
-3
E
9
3
3
0
0
5
1
4
H
4
3
1
1
1
1
1
0
–
Well, four of the six made it through in the end, which is better than last time, but that will be short lived as Germany and England face each other on the second day of the knockout games.
Stage 2 Knockout [two games per day]
Uruguay – Republic of Korea
United States – Ghana
Argentina – Mexico
Germany – England
Netherlands – Slovakia
Brazil – Chile
Paraguay – Japan
Spain – Portugal
June 25, 2010 Comments Off on The Knockout Round

We now have a tropical depression added to the mix of problems in the Gulf. If it looks like it is going anywhere near the Well from Hell, they are going to be forced to shut down operations, including the relief well drilling, and wait it out.
Rick Outzen admits what some of us have known: We have lost our beach. He was shown that picking up the stuff on top may make things look better, but there is plenty of oil just below the sand. The sand acts like a filter, and even oil that you can't see gets trapped as it passes through the sand. BP has no intention of cleaning up anything but the most obvious oil, which is why it spent so much on dispersants.
A lot of people [Corrente, Ellroon] are linking to the video of Kindra Arensen, but Susie's version, What's Going On In The Gulf, includes a transcript, and separate CNN video from an earlier interview she did.
You will note that Ms Arensen gave Fox News a free tour, but Fox hasn't reported on it. It's pretty interesting doing a search on "Kindra Arensen Fox" as all of these rightwing blogs keep saying things like "Fox should be all over this", or "Beck should cover this". Not going to happen.
Ms Arensen tells you what you should have figured out for yourselves – BP is out to spend the absolute minimum it can get away with, and couldn't care less about what happens to anyone but themselves and their shareholders.
June 25, 2010 2 Comments

Position: 16.7N 84.4 W [10 PM CST 0300 UTC].
Movement: West Northwest [295°] near 9 mph [15 kph].
Maximum sustained winds: 35 mph [55 kph].
Wind Gusts: 45 mph [70 kph].
Minimum central pressure: 1004 mb.
It is 255 miles [415 km] East Southeast of Belize City.
A Tropical Storm warning is in effect for the coast of Belize and and the East Coast of the Yucatan Peninsula from Chetumal to Cancun, Mexico.
Here's the link for NOAA's latest satellite images.
[For the latest information click on the storm symbol, or go to the CATEGORIES drop-down box below the CALENDAR and select "Hurricanes" for all of the posts related to storms on this site.]
June 25, 2010 2 Comments

Tom McLaughlin is a reporter for the Local Puppy Trainer who has been having all the fun lately by covering the legal problems of our politicians. He has a blog on their website on which he announces: "I cover lawyers, politicians and salamanders. If it ain't slimy I want nothing to do with it."
His most recent post asks the burning question: Are BP executives from outer space?
Walton County Sheriff Mike Adkinson asked [BP vice president Bryant] Chapman if he could get an assurance that, in the event he gets tar balls on his beaches and there isn't any BP crew around to pick it up, BP would be willing to pick up the tab when Adkinson sends out his public works people without going through "proper channels."

Chapman nodded his head in the fashion universally known to mean yes. Then he said … "No."
It is all about money, and BP controls the money. Because of all of the budgetary restrictions that Republicans have imposed on local governments, they can't spend a penny that they don't have in the bank. Everyone's emergency fund is at or near empty, so they are stuck waiting for BP to reimburse them before they can do anything else. As long as BP controls the money, governments can't do what they think they should.
June 25, 2010 Comments Off on Still Gushing

Final Round
In Group G:
Portugal 0-0 Brazil
DPR Korea 0-3 Côte d'Ivoire
Team
Status
Points
Matches
Goals
Played
Won
Tied
Lost
For
Agnst.
Diff.
Brazil
In
7
3
2
1
0
5
2
3
Portugal
In
5
3
1
2
0
7
0
7
Côte d'Ivoire
Out
4
3
1
1
1
4
3
1
DPR Korea
Out
0
3
0
0
3
1
12
-11
—
This was a very tough draw for Côte d'Ivoire, who played well. Brazil is obviously prepared to take the Cup with them and have it in place when they host in 2014.
In Group H:
Chile 1-2 Spain
Switzerland 0-0 Honduras
Team
Status
Points
Matches
Goals
Played
Won
Tied
Lost
For
Agnst.
Diff.
Spain
In
6
3
2
0
1
4
2
2
Chile
In
6
3
2
0
1
3
2
1
Switzerland
Out
4
3
1
1
1
1
1
0
Honduras
Out
1
3
0
1
2
0
3
-3
—
Alas the Nati just couldn't get it done. Of course they would have had to win by at least 2 goals to get through, but they remained a moderate in all areas with a one in almost every column.
June 25, 2010 Comments Off on Day 15 End Of Group Play
It Moves!!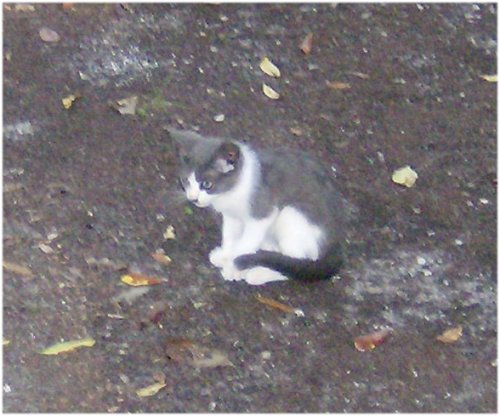 I need coffee, maybe?
[Editor: Sleepy does do things other than sleep, just not very energetically until the sun is down.]
June 25, 2010 8 Comments