When US politics get to be too much I go with British satire at Newsbiscuit:
Satire is under attack in the US. How can you compete with this ad that Jim DeRosa embedded of Christine O'Donnell.
Maybe it's because I live in Southern Fundistan, but I don't think dressing in black and being taped against a very dark background was a good idea for the message. At least she avoided using Mussorgski for background music.
October 8, 2010 Comments Off on On A Lighter Note

Position: 27.8N 60.8W [10 PM CDT 0300 UTC].
Movement: East-Northeast [060°] near 21 mph [33 kph].
Maximum sustained winds: 85 mph [135 kph].
Wind Gusts: 105 mph [170 kph].
Tropical Storm Wind Radius: 195 miles [315 km].
Hurricane Wind Radius: 30 miles [ 50 km].
Minimum central pressure: 972 mb ↓.
Currently about 390 miles [630 km] Southeast of Bermuda.
Here's the link for NOAA's latest satellite images.
[For the latest information click on the storm symbol, or go to the CATEGORIES drop-down box below the CALENDAR and select "Hurricanes" for all of the posts related to storms on this site.]
October 8, 2010 Comments Off on Hurricane Otto – Day 3
Wild Blue… Yonder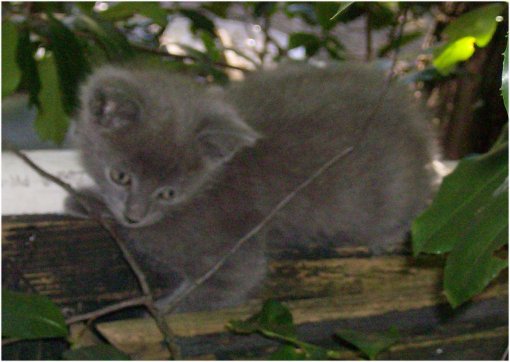 What was that?
[Editor: This little guy was asleep on the edge of an old wooden screen door when I finally got a picture of him.
Friday Ark is still at sea.
October 8, 2010 7 Comments