Posts from —
May 2012
Everyone in the Village and media felt like they had to condemn Chris Hayes for questioning the use of the word 'hero' to describe everyone wearing a uniform.
I have a news flash for the people who think over-using the word is 'supporting the troops' – as veteran, from a line of veterans that goes back before the founding of the United States, the troops understand that it is a bullshit throw-away compliment that means less than nothing.
You normally hear 'hero' in the military coming from the mouth of someone with more stripes than a zebra that is millimeters away from your face in the form "DO YOU THINK YOU'RE SOME KIND OF HEEEE_RO!!!" Such things never end well.
There are people who do things in every walk of life that are truly heroic, and the word should be reserved for them, not debased by casual use. The military has known for centuries what people really think of them. Rudyard Kipling summed it up in a poem, Tommy. The truth of the poem is readily perceived as reality by those wearing camo BDUs as it was by the red-coated infantry of Victorian Britain.
"As you know, you go to war with the Army you have. They're not the Army you might want or wish to have at a later time." – Donald Rumsfeld
If people really respected and supported the troops, they would insist that: pay was raised to point that the lower ranks didn't qualify for food stamps; benefits weren't constantly being cut or changed; there wasn't a half-millon person backlog for VA assistance; and other problems and indignities that the troops constantly face.
The use of the word 'hero' is a free replacement for actually spending money on the people who get sent to war.
May 31, 2012 2 Comments
So the jury in the John Edwards case acquitted him of one charge and couldn't make up its mind about the other five, and a mistrial is declared. Now the Department of Justice has to decide whether to waste even more tax dollars with another trial on the other five charges.
This whole thing was a waste of time and money involving a guess as to the intentions of the defendant in order to justify a claim of a violation of the campaign law. None of the money involved ever saw a campaign account, so the whole thing was beyond weak.
Not one single person has been put on trial for blowing up the world economy, not one single bank has been charged for forging documents in foreclosures, but they have resources to waste on prosecuting John Edwards for acting like John Ensign.
No mistake – John Edwards is a real jerk for what he did, but justice and judgment was the right of his family and friends, not the Federal court.
May 31, 2012 2 Comments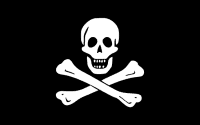 In order to generate "local excitement" [sell stuff] the chamber of commerce is once again annoying people with the Billy Bowlegs Festival. This year the unavoidable part runs from Thursday, May 31st and finishes up on Sunday Saturday. The really obnoxious parade that screws up traffic and sends a lot of noisy people through my neighborhood had been taking place on Monday in previous years, but they decided to change things. Now the parade will be held on Thursday. This year that is also the day of the graduation from a local high school, so things will be even worse.
Almost at bad as the parade traffic jam are the Friday Saturday fireworks. I know a lot of people enjoy fireworks, but they probably have not seen what loud noises and flashes of light can do to people and aircraft – I am definitely not a fan.
Update: They changed the schedule this year.
May 30, 2012 2 Comments
Winning a Bronze Star in the World War II Battle of the Bulge won't stop Florida's Fraudster in Chief from removing you from the voting rolls. McClatchy has the latest effort to purge qualified voters from the rolls to help the Republicans to steal elections more reliably.
They don't care that the last known incident of voter fraud involved a woman named Ann Coulter, who is apparently a celebrity of some kind, and a known Republican. They are going after people who are suspected of voting for Democrats.
The Republicans don't think they can win honest elections, so they try to remove voters with their changes in the election laws and purges of voter lists.
Locally the smoke is real and caused by a burning swamp on Eglin AFB. Last night it was like the fog came in as visibility was down to a quarter mile in some places [like my house], but one whiff made it obvious it was smoke.
It is fundamentally wrong for swamps to burn.
May 30, 2012 2 Comments
David Atkins at Digby's notes a piece in the LA Times, Many hospitals, doctors offer cash discount for medical bills, that covers the reality of the cost of our current health care system.
Basically the article notes that is can be cheaper to pay cash for some procedures, than to use your insurance coverage and pay the required 'co-pay'. This is a business reality that isn't factored into Obamacare.
It costs hospitals and other health care providers a lot of money to collect from insurance companies, and they wait a long time to see that money. As a result, the providers who actually understand business factor those additional costs into what they charge. When you have to pay the people who provide the services, and the people who do the billing, having to wait months for the money means you may have to borrow against those receivables to stay in business during the lag. If you don't have to wait, it is much cheaper, which is what the lower cash price reflects.
Insurance companies are not going to get the lowest price unless they start paying within 30 days or less, and that isn't going to happen.
Read the article to see how much more everyone pays when the insurance companies stall and make collection on covered benefits difficult.
Oh, yes, the private sector is cheaper and more efficient than the government, well, except when it is more profitable not to be, which is almost always the case.
May 29, 2012 2 Comments
Today was the first time in the last four days that the heat index wasn't at 105°F [40.6°C] or better because the humidity dropped. We have been breaking or tying the records for high temperature for a week. In addition to bringing much needed rain to North Florida and Georgia, Beryl reversed the wind flow drawing in drier air.
Since I came back to Okaloosa County in 1991, this is the first winter that we didn't even have a frost warning, much less a freeze. Both March and April were very mild months.
Beryl is now a tropical depression in South Georgia, continuing to rain on parched land. It is forecast to reenter the Atlantic on the coast of North Carolina. The National Weather Service issued a statement:
… Public information statement…

Tropical Storm Beryl… which made landfall near Jacksonville Beach FL… Marks the second named storm of the 2012 hurricane season. This is the first time since the 1908 hurricane season that two Atlantic named storms have formed this early in the year. The only other year with two storms this early was 1887. As a side note… records of Atlantic tropical cyclones go back to 1851.
The Congresscritters who don't believe that climate change is real should be bussed down to the coast of Virginia where it is obvious the sea level is rising. The effect is more dramatic in the Arctic, but there is no way of denying that it is happening within a bus ride from the Capitol.
May 28, 2012 4 Comments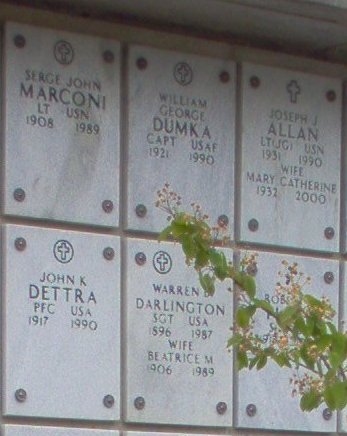 This is a picture from one of the columbariums at the Arlington National Cemetery, the final resting place of many of those who served the United States since the middle of the 19th century.
That is my Father's marker. He didn't know those located around his marker, but they all shared service to their country as part of their life.
I remember when this was Decoration Day and always celebrated on the 30th of May. It was 'celebrated' by going to tend the families' grave sites. It was a solemn, personal holiday. Not all who have served this country or died in its wars did so in military uniforms. They should all be honored.
At the end of his short speech at the dedication of the cemetery at the Gettysburg battlefield Abraham Lincoln said:
It is rather for us the living, we here be dedicated to the great task remaining before us–that from these honored dead we take increased devotion to that cause for which they here gave the last full measure of devotion–that we here highly resolve that these dead shall not have died in vain, that this nation shall have a new birth of freedom, and that government of the people, by the people, for the people shall not perish from the earth.
Take some time to consider where we are on the road to accomplishing Lincoln's challenge.
May 28, 2012 10 Comments
The ABC reports on the annual Eurovision contest, a talent show for countries. [Consider a talent show put on by the State Department …]
So you know, a Swedish singer named Loreen won with a club/disco song called Euphoria. It is apparently essential that you be made aware that she wasn't wearing shoes when she performed. [No idea why that's important, but all the reporting mentions it. She may have taken them off when going through airport security, and never got them back.]
The other big thing was the battle of the grandparents between Russia and the UK. The two groups came in second – the Russian grandmothers, Buranovskiye Babushki, were second from the top, and the UK grandfather, Engelbert Humperdinck, came in second to last.
I have to say that I would never have expected that a group of pensioners from a small village singing a traditional song put to a disco beat would have done well.
Norway came in last, but they probably wore shoes.
They changed the rules this year and added 'professional judges' whose votes counted for 50% of the final score. The other 50% was based on phone calls and text messages. After last year, when Azerbaijan won, and won the right to host this year's contest, there was concern that the government apparently knew how everyone in the country voted, and actually invoked sanctions against people who didn't vote for the 'home team', it was thought there might be a problem with all of the votes coming over the Azeri telecommunications system.
It is safe enough to watch the video at the ABC site, as it is only 60 seconds and features the short takes of the winner and the Russian grannies. If you are a musical masochist, here's the Official Site which contains videos of all the performances in their entirety.
May 27, 2012 2 Comments

Position: 30.2N 81.1W [10PM CDT 0300 UTC].
Movement: West [270°] near 7 mph [11 kph].
Maximum sustained winds: 70 mph [110 kph].
Wind Gusts: 85 mph [135 kph].
Tropical Storm Wind Radius: 115 miles [185 km].
Minimum central pressure: 993 mb ↑.
Currently about 35 miles [ 60 km] East of Jacksonville, Florida.
A Tropical Storm Warning is in effect for the coast from the Volusia-Brevard County line in Florida northward to Edisto Beach, South Carolina.
Beryl still has its sights set on the Florida coast between Jacksonville and St Augustine late tonight or early tomorrow morning. Beryl has managed to become a tropical storm which will increase rainfall amounts. There is a chance it might become a minimal hurricane prior to landfall. Tropical storm-force winds are already impacting Duval and St Johns counties, Florida.
The Jacksonville radar at 10PM CDT shows the storm's center just off the coast with the outer bands stretching from Daytona Beach, Florida North to Savannah, Georgia. The outer bands are where most of the tornado activity associated with tropical storms are located.
UPDATE: At 11:10PM CDT [0410 UTC] radar showed that Beryl had come ashore in Jacksonville Beach, Florida.
Here's the link for NOAA's latest satellite images.
[For the latest information click on the storm symbol, or go to the CATEGORIES drop-down box below the CALENDAR and select "Hurricanes" for all of the posts related to storms on this site.]
May 27, 2012 Comments Off on Tropical Storm Beryl – Day 3

Position: 30.8N 77.2W [10PM CDT 0300 UTC].
Movement: Southwest [230°] near 7 mph [11 kph].
Maximum sustained winds: 50 mph [ 80 kph].
Wind Gusts: 65 mph [105 kph].
Tropical Storm Wind Radius: 90 miles [145 km].
Minimum central pressure: 998 mb.
Currently about 270 miles [435 km] East of Jacksonville, Florida.
A Tropical Storm Warning is in effect for the coast from the Volusia-Brevard County line in Florida northward to Edisto Beach, South Carolina.
The storm has made the forecast turn toward the coast and is headed towards Jacksonville.
The Tropical Storm Watch for South Carolina has been canceled.
Here's the link for NOAA's latest satellite images.
[For the latest information click on the storm symbol, or go to the CATEGORIES drop-down box below the CALENDAR and select "Hurricanes" for all of the posts related to storms on this site.]
May 26, 2012 Comments Off on Sub-Tropical Storm Beryl – Day 2

Position: 32.5N 74.8W [10PM CDT 0300 UTC].
Movement: North [010°] near 9 mph [15 kph].
Maximum sustained winds: 45 mph [ 75 kph].
Wind Gusts: 55 mph [ 90 kph].
Tropical Storm Wind Radius: 140 miles [220 km].
Minimum central pressure: 1001 mb ↓.
Currently about 305 miles [490 km] East of Charleston, South Carolina.
A Tropical Storm Warning is in effect for the coast from the Volusia-Brevard County line in Florida northward to Edisto Beach, South Carolina.
A Tropical Storm Watch is in effect for the coast from Edisto Beach northward to the Santee River in South Carolina.
This storm has been attempting to organize for days, but has been suppressed by 40-50 knot wind shear. That shear accounts for the designation 'sub-tropical' rather than just tropical. The shear is weakening, and the storm should be able to transition to the standard tropical form.
If the tracking forecast holds, it should come ashore around Jacksonville, Florida Sunday night. The area could use the rain.
Here's the link for NOAA's latest satellite images.
[For the latest information click on the storm symbol, or go to the CATEGORIES drop-down box below the CALENDAR and select "Hurricanes" for all of the posts related to storms on this site.]
May 25, 2012 Comments Off on Sub-Tropical Storm Beryl
Media bloggers Jim Romenesko and Anthenae started talking about changes at the New Orleans Times-Picayune yesterday.
Then Charlie Pierce chimed in:
I know the Intertoobz are the future — teach them well and let them lead the way — but this just sucks pond water in all kinds of ways. Of all the cities in the country, New Orleans should be the one most aware that a huge number of Americans don't have access to the Toobz. (Another thing Newt Gingrich was right about, by the way.) Gutting a profitable newspaper in a city like New Orleans is the functional equivalent in an information sense of lining up to piss into a reservoir. The main reason that newspapers are failing in this country is that they are being set up to fail by publishers who think like hedge fund cowboys, and by editors who think like corporate officers. If there's another major institution in this country that hasn't yet gone out of its way to fail the people of New Orleans, I don't know what it is.
WDSU [New Orleans Channel 6] : Times-Picayune to reduce print edition. The print edition will only come out on Wednesday, Friday, and Sunday. Everyone is supposed to use NOLA.com for current news.
New Orleans blogger Adrastos finishes off on the loss of the only daily newspaper in the city, and the total disaster that is NOLA.com.
I have to agree with him about NOLA.com – it isn't as good as my Local Puppy Trainer as a newspaper site. It is more of a aggregator than an actual news site, with no attempt made to group articles based on content or area affected. As Adrastos noted, it is a lot easier to use Google to find something on the site, than the 'tools' of the site.
The Times-Picayune is the newspaper of record for the area. That isn't a nickname, that is a legal term, and it involves a lot of legal proceedings. There are requirements to 'advertise' certain actions, to notify the public and interested/affected parties by putting notices in the local paper of record. You will often see a section labeled 'legal notices' in your local paper. This change is going to affect a lot of people in very annoying ways, and publishing 3 times per week may not be sufficient to qualify as a newspaper of record.
The Times-Picayune did a lot of great work on Katrina and the Gulf Gusher. It doesn't deserve to be assaulted like this. It was profitable, paying out bonuses for the last two years, but that won't continue. The Newhouse family deserves what is going to happen to their empire, but the people who have worked for them, and made them successful don't.
May 25, 2012 4 Comments
Imagine having to be asked, and having to agree to a web site tagging you with a cookie? Well, the BBC tells me that it is the law in the UK – Cookie law: websites must seek consent from this weekend.
Apparently it only applies to new visitors to the UK web sites, and there is no mention of how exactly they are going to know who is a new visitor without a massive data base unless they just assume that anyone without their 'cookie' is a new visitor.
Cookies do serve a useful purpose in a lot of ways, but they have been transformed from a tool to a 'weapon' by marketing people. There has been a lot of that over the years – useful features transformed into annoying obstacles.
Expect some odd experiences when you visit the UK sites in the next few days [weeks … months?] as they implement this law. If they use a 'pop-up' to ask for permission, what happens if you block 'pop-ups'? No one knows at this point.
May 25, 2012 4 Comments
May 25, 2012 Comments Off on DON'T PANIC!