Today was the first time in the last four days that the heat index wasn't at 105°F [40.6°C] or better because the humidity dropped. We have been breaking or tying the records for high temperature for a week. In addition to bringing much needed rain to North Florida and Georgia, Beryl reversed the wind flow drawing in drier air.
Since I came back to Okaloosa County in 1991, this is the first winter that we didn't even have a frost warning, much less a freeze. Both March and April were very mild months.
Beryl is now a tropical depression in South Georgia, continuing to rain on parched land. It is forecast to reenter the Atlantic on the coast of North Carolina. The National Weather Service issued a statement:
… Public information statement…

Tropical Storm Beryl… which made landfall near Jacksonville Beach FL… Marks the second named storm of the 2012 hurricane season. This is the first time since the 1908 hurricane season that two Atlantic named storms have formed this early in the year. The only other year with two storms this early was 1887. As a side note… records of Atlantic tropical cyclones go back to 1851.
The Congresscritters who don't believe that climate change is real should be bussed down to the coast of Virginia where it is obvious the sea level is rising. The effect is more dramatic in the Arctic, but there is no way of denying that it is happening within a bus ride from the Capitol.
May 28, 2012 4 Comments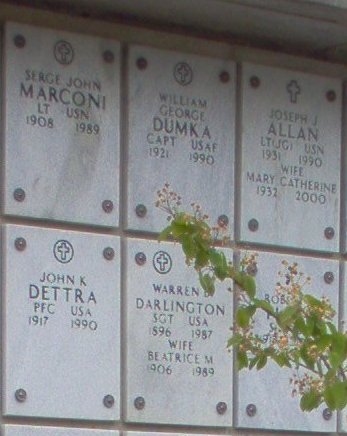 This is a picture from one of the columbariums at the Arlington National Cemetery, the final resting place of many of those who served the United States since the middle of the 19th century.
That is my Father's marker. He didn't know those located around his marker, but they all shared service to their country as part of their life.
I remember when this was Decoration Day and always celebrated on the 30th of May. It was 'celebrated' by going to tend the families' grave sites. It was a solemn, personal holiday. Not all who have served this country or died in its wars did so in military uniforms. They should all be honored.
At the end of his short speech at the dedication of the cemetery at the Gettysburg battlefield Abraham Lincoln said:
It is rather for us the living, we here be dedicated to the great task remaining before us–that from these honored dead we take increased devotion to that cause for which they here gave the last full measure of devotion–that we here highly resolve that these dead shall not have died in vain, that this nation shall have a new birth of freedom, and that government of the people, by the people, for the people shall not perish from the earth.
Take some time to consider where we are on the road to accomplishing Lincoln's challenge.
May 28, 2012 10 Comments