The Mittster has had unkind things said about him by the editors of the Local Puppy Trainer: Romney, Carter and Desert One
The Daily News isn't interested in defending President Obama's role in the killing of terrorist Osama bin Laden. The president reinvigorated the hunt for bin Laden after it had gone slack; he overruled advisers to launch the final raid; and he succeeded where his predecessor had failed. We don't have to defend him. He doesn't need our help.
…

"Even Jimmy Carter would have given that order," Mr. Romney said with a sly smile.

His message was clear: The raid to kill bin Laden was such a high-reward, low-risk affair that even an indecisive fop like Carter would have OK'd it.
…

The Emerald Coast has never forgotten the sacrifices of those who died at Desert One.

Jimmy Carter is not our favorite former president, but implying that he was a doofus who took the easy way out shows that Mr. Romney either doesn't know what happened on April 25, 1980, or doesn't care.
Five airman stationed at Hurlburt Field died on the Desert One mission. Mr. Romney needs to find some competent people to advise him on national security and recent history, because he just ticked off the Special Ops people, and their supporters.
Cyrus Vance, Carter's Secretary of State, opposed the mission, and resigned when Carter approved it, holding his resignation until after the mission took place to avoid giving any indication that something significant was about to happen. It definitely wasn't a unanimous decision by Carter's advisors, nor an easy decision to make.
May 4, 2012 5 Comments
So, the chairman of the county's Tourist Development Council got into trouble and resigned after he used county money to buy a 40-foot yacht. Well, at least the title of the boat was made out to the county. He made another purchase and kept the title in his own name, according to reports today.
The Local Puppy Trainer has the story: Sheriff's Office issues warrant for Mark Bellinger's arrest
The Okaloosa County Sheriff's Office has issued an arrest warrant for Mark Bellinger, the former director of the Okaloosa County Tourist Development Council.

The Sheriff's Office, in conjunction with the Northwest Florida Mortgage Fraud Task Force, obtained the felony warrant late Thursday.

Bellinger, 52, is facing charges of felony theft.
…

Bellinger is accused of using TDC funds to purchase a home in Destin, according to an OCSO news release.

The $747,000 home is located in the Kelly Plantation neighborhood of Destin and was purchased in August 2011. The Sheriff's office's ongoing investigation determined that some of the funds used to purchase the home might have come from BP money funneled to the TDC following the 2010 oil spill.
No doubt he got a great price for an all cash deal and immediate closing … 😈
He must have figured out this was coming, which is probably why he resigned after they found out about the boat, to give him more time to get away.
He left a suicide note for his wife to find.
Update: Mr. Bellinger died of an apparent drug overdose in Pelham, Alabama.
May 4, 2012 Comments Off on Making A List
New Kits On The Blocks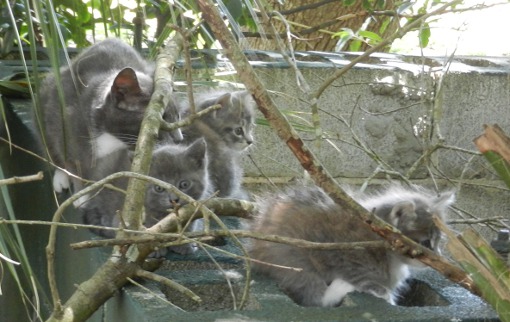 Axe Murderer!
[Editor: Ms Underhouse and the Pump House Gang. There is a blue and two gray tabbies with white feet.]
In Memoriam
Hipparchia's canine 'foster mother' to feral kittens, Fluffy Black Dog, has made his last run on the beach, and licked his last kitten. He was 16.
May 4, 2012 9 Comments