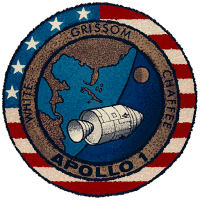 Virgil "Gus" Ivan Grissom, Lieutenant Colonel, USAF
Edward Higgins White, II, Lieutenant Colonel, USAF
Roger Bruce Chaffee, Lieutenant Commander, USN
NASA now has a Memorial Page honoring those who have been lost in the space program.
January 27, 2022 Comments Off on Apollo 1
Digby provides the long form of unGovernor DeMentis's battle againt medical reality, but Twitter feeds it to you in bite-sized chunks:
Ron Filipkowski (@RonFilipkowski) notes:
After the FDA discontinued use of monoclonal antibodies because they don't work on Omicron, which Eli Lilly and Regeneron acknowledge, Dr. Ron Desantis says they are wrong and vows, "We're gonna fight back!"
DeMentis is definitely not a "doctor" in any sense of the word.
Lindy Li adds:
Regeneron, which makes monoclonal antibodies, says that they don't work against Omicron

Ron DeSantis is falsely claiming that they do

Citadel owns $16 million of Regeneron stock. Citadel CEO, his biggest donor, gave DeSantis $11 million

I'm sure this is just a coincidence 🙁
You're right, Lindy. It's not as if Florida politicians are known for doing "special favors" for their big donors 😉
If DeMentis continues with the monoclonal antibodies, the state is going to be paying for them at $2K a dose. Up until now the Federal government has been paying for the treatment.
January 27, 2022 4 Comments